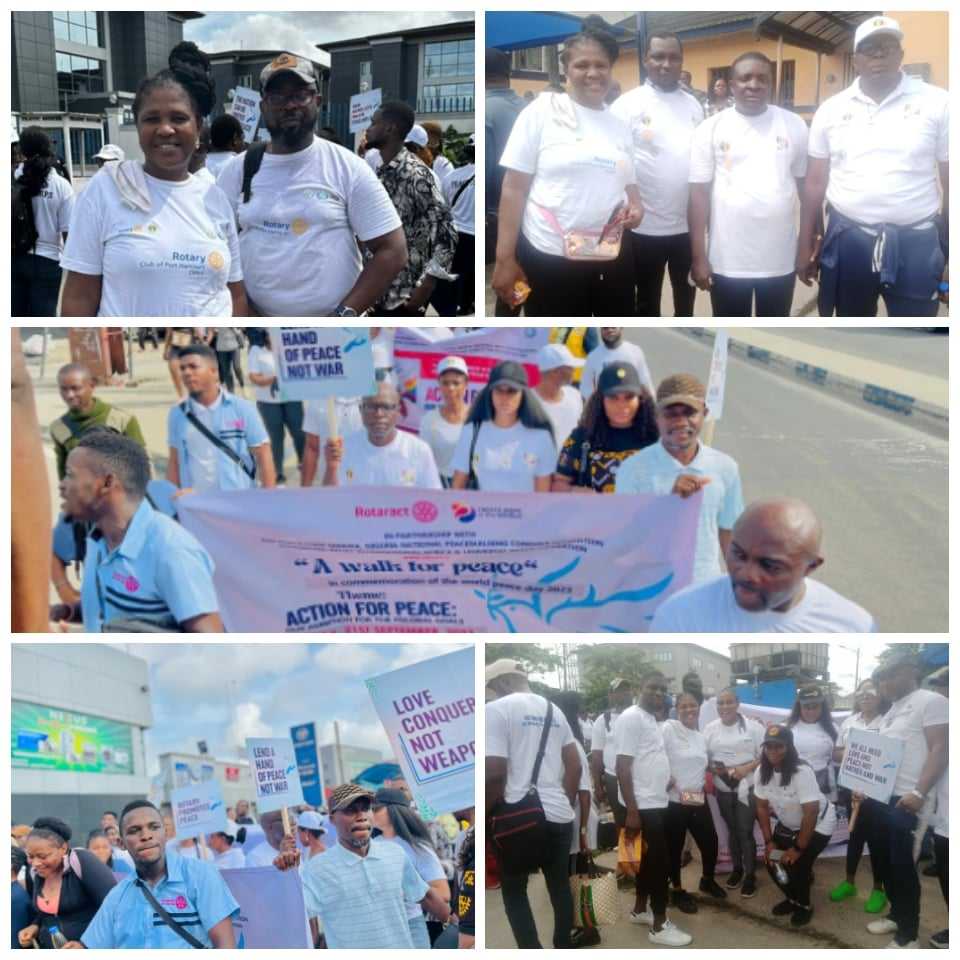 Peace As A Prerequisite For Development: Rotary Clubs, Nigeria Peace Corps, Relief Ambassadors Sensitize Port Harcourt Residents
Nigerian peace corps, Relief peace Ambassadors , Universal Peace Federation (UPF) and 17 Rotary Clubs in port Harcourt  and  have joined the rest of the world to mark 2023 International Peace Day, Tagged Action For Peace: Our Ambition For The #GlobalGoals"
The event which was marked by, the Peace Corp Nigeria in partnership with seventeen Rotary clubs in Port Harcourt Relief International Africa and Universal Peace Federation staged a Peace Walk campaign to sensitize and amplify the call to action for collective efforts in fostering peace in Rivers State. The seventeen Rotary Club  includes  RC PHC Orbit, Port Harcourt Rebisi Kingdom, South, City Valley, Seaport, GRA, Cosmopolitan, Metropolitan, Creek View, Spring Gardens,  Gateway, Rumuigbo, Port Harcourt, Atlantic City, New City, Esara City and Rotary Club of Onne.
The Peace Walk Campaign which took off from Garrison in Port Harcourt with other partners made a brief  stop at the Police head quarters, to call on them to take steps to build peace and achieve the sustainable Development Goals.
The commissioner Of Police in Rivers State CP EMEKA NWONYI while addressing the peace walk rally said there must be peace in Rivers State because the Fire of peace is burning everywhere especially with the Launch of Operation Zero Crime Initiatives, He said achieving peace is everyone's task, and should not be left only in the hands of Security agencies and a few others while Urging residents to "See something, Say something "
CP NWONYI explained that sustaining peace is a deliberate process that involves taking key decisions including those that could be deemed unfavorable, insisting that each attempt to establish peace demands sacrifice and selflessness.
For His part,  the Commandant of the Peace Corp Nigeria Rivers State Command Dr Michael Obiora said the PCN will continue to carry it's core mandate of facilitating peace through volunteerism community services and Nation-building, stressing that a society devoid of peace will not develop.
He said "Government must be intentional in building sustainable peace through human capacity development".
Coordinating leader of the seventeen Rotary Clubs and President of the Rotary Club of Port Harcourt Rebisi Kingdom Kris Ugo said said " the Rotary clubs in Rivers State will raise it's peace drive and campaign across it's catchment areas to maintain existing peace and foster more development in the state".
State Coordinator of Relief International Africa Green Isaac, said  if everyone begins to show deliberate desire to entrenching peace through the way they live and treat others, the world would be a lot better, while certain impediments to peace would have been eliminated.
Further Stressing The Need for actionable  Peace Drive, The Coordinator Of Universal Peace Federation. Ambassador Arinze Akupue Reiterated the the need for religious and interfaith tolerance as panacea for actionable peace.  He said the peace walk in partnership with other peace ambassadors, Rotary and The police is to raise awareness that no meaning development will take place without Peace and urge residents to eschew all forms of violence
Correspondent Anita Ogona Reports that the event which climaxed with an evening of  Peace Symposium and award  Dinner  had different personalities  honored with various categories of award in promoting peace within their communities and state at large