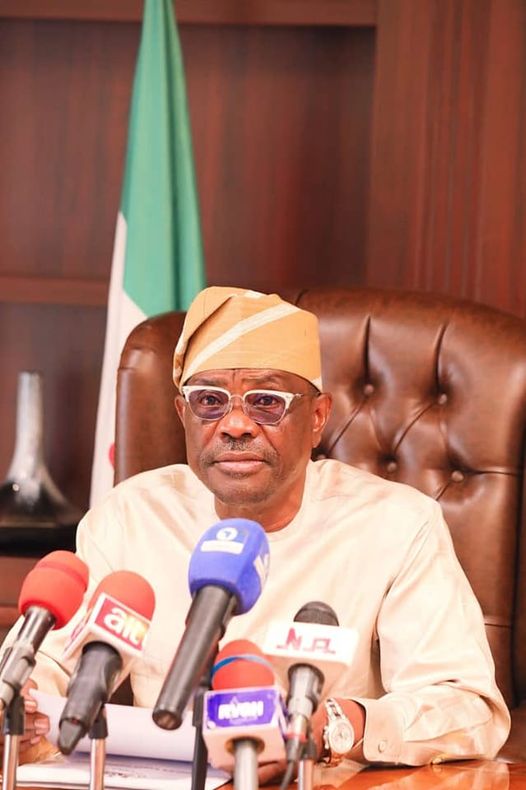 Peter Obi Ungrateful, I Never Worked Against Him For Tinubu's Victory – Wike
The Governor of Rivers State, Nyesom Wike, has denied working against Peter Obi of the Labour Party in the 25 February presidential poll.
He stated that it is unfortunate that Peter Obi claimed he stood against him during last month's presidential election.
He said Peter Obi is ungrateful.
Also, the governor said he never told Rivers people to vote for the President-elect, Bola Ahmed Tinubu.
Wike said this during a media chat with journalists in Port Harcourt, the state capital, on Wednesday.
He faulted claims that he rigged Rivers State polls to favour his preferred candidates at the Presidential, National Assembly, governorship and House of Assembly elections.
He said Rivers voted for the unity of Nigeria by voting for Tinubu at the presidential poll.
He stressed that his goal from the outset of the presidential election was there- the president must come from the South.
He added that he never campaigned against Peter Obi.
"I never told Rivers people to vote for Bola Ahmed Tinubu but for the Unity of Nigeria. As far as Rivers State is concerned, it was a power shift to the South. And there are two candidates from the South, Tinubu and Peter Obi of the Labour Party, so If the majority of Rivers People decided to vote for Tinubu and others for Peter Obi, that tells you the decision of the citizens.
"How can you talk about me rigging the election? I don't work as ad-hoc staff for Independent National Electoral Commission, INEC, so I am not in the place to rig elections for anybody. When you have INEC's materials, you can talk about rigging.
"But I take exemption to Peter Obi's comment that I came out against him, people are not being sincere and appreciative. In 2019, I was among the people who chose Peter Obi for Atiku Abubakar.
March 22, 2023