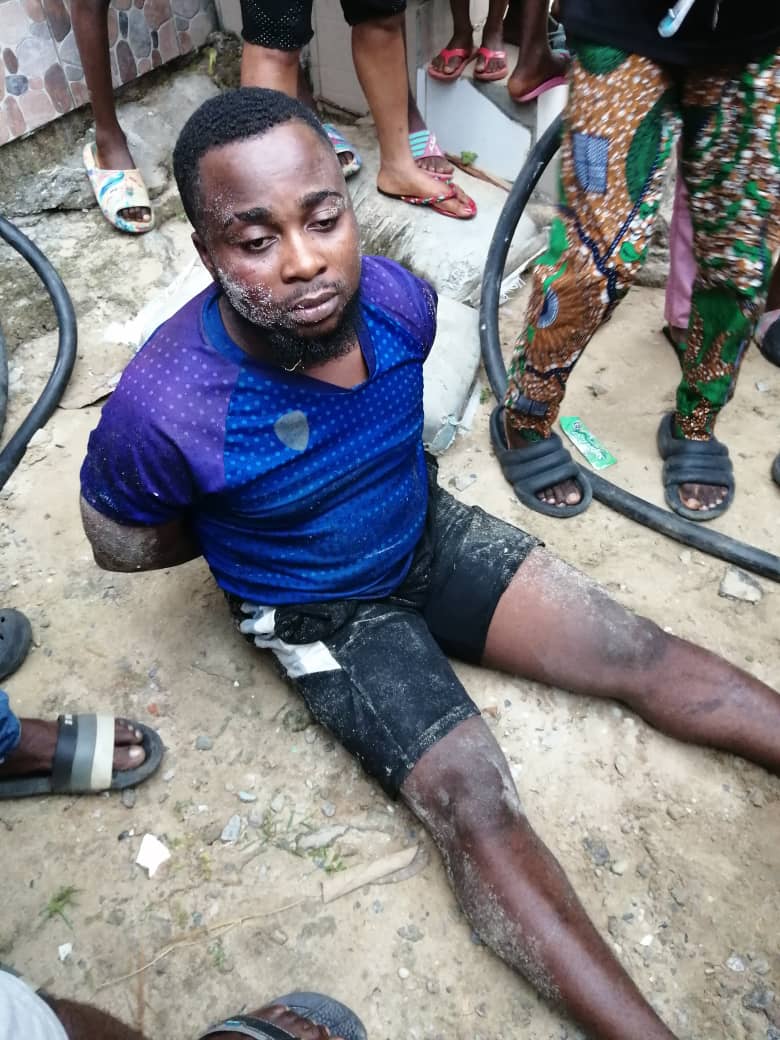 PHED Police Clash With Egbelu-Eliozu Residents For Handing Over Armored Cable Thief To Rumuokoro Police Division
There was Pandemonium This Morning in Egbelu Eliozu Rivers community after resident caught transformer  vandal  who identified himself as Frank.
Our correspondent who was at the scene of the incident and interviewed the suspect who said they were four in Number who came for the operation, including a tiler who also lives in the area called Wassiu as their informant came for the operations.
The thief revealed he was a hired electrically Technician who gets paid after they finished the operations and said he was not a thief but was sent to do the job.
When  further interrogated he revealed that he works with a particular Cable dealer Whose shop is at Okija street in Mile1 area, a popular Electric and Electronics market in port Harcourt.
Our correspondent reports that a twist in the matter which got the community worried was when the matter was reported to Rumuokoro Police division, the DPO Sent Patrol team to pick up the suspected armored cable thief  while the Community chairman Mr. Tony Nelu accompanied them to the division to write statement, upon his return to the community another Police Patrol team came with Mobile police men in  Five Hilux Van stormed the community requesting that thief be handed to them, upon information that the community chairman  has handed the thief to Rumuokoro police DPO,  They made attempt to arrest the chairman querying why the suspect was not handed over to the PHED( Port Harcourt electricity Distribution company) Police. until the community boys came out in their number to chase out the Acclaimed PHED Police
When the matter was reported to the Command Headquarters the Police Spokesperson Grace Iringe-Koko confirmed that the suspect is already cooling off at the Rumuokoro police division and would be arraigned in court after investigation. she urged the other interested police party to contact the Rumuokoro police division for any information they need from the suspect
Recall that Theft of power distribution assets is an economic sabotage and is considered a serious offence under the Nigerian Electricity Laws