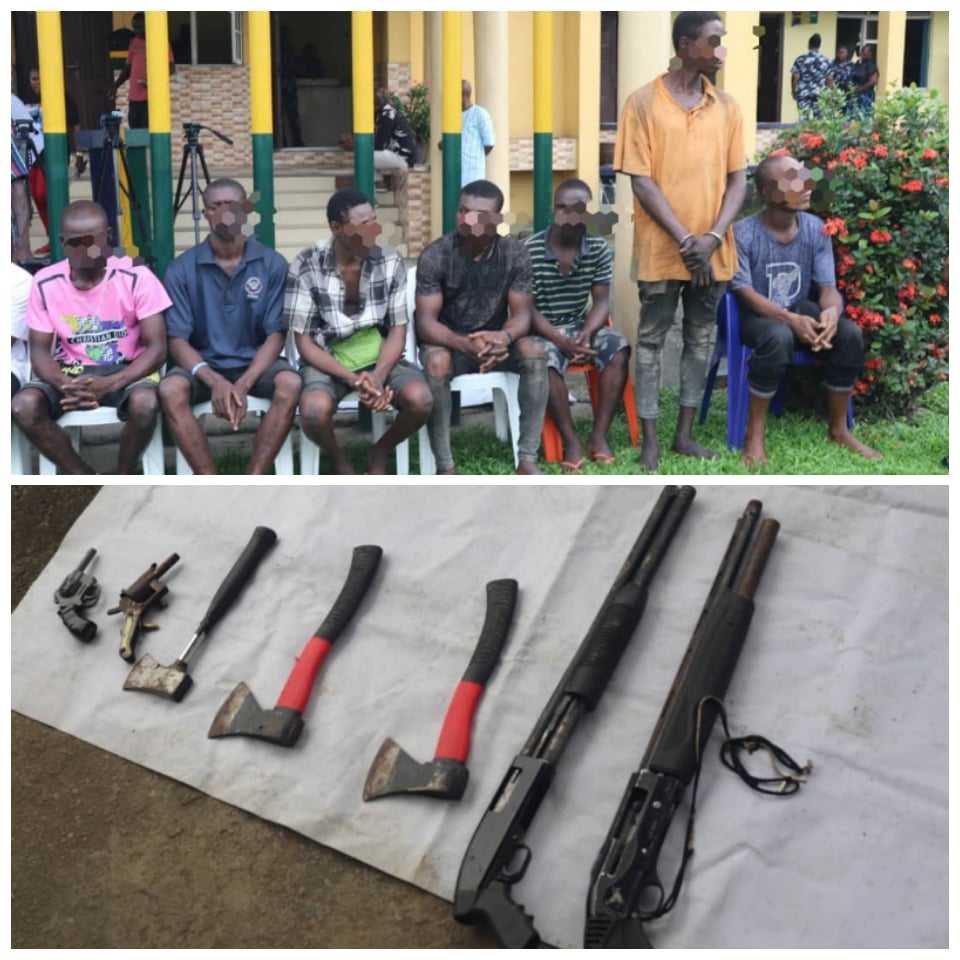 Police Parade 3 Serial Oil Mill Rice Shop Burglars, Arrest 3 RSU Suspected Cultist with 3 Sharp English Axes
Rivers Police Make Massive Gains In Crime Fighting, Arrest Suspected Armed robbers, Cultists
The Rivers State Police Command has recorded huge success in the past weeks in area of crime fighting.
Parading criminal suspects at Police headquarters, Moscow road, Portharcourt on Friday, Commissioner of Police, CP Nwonyi Emeka said the command is unrelenting in its desire to achieve zero crime in the state.
He said three of notorious armed robbers were arrested on 29th September,2023 along Rumukwushi tank flyover who burgled rice farm in the area.
CP Emeka stated that Police patrol team moved to the scene where two pump action guns, Hilux, Toyota sienna, bolt cutter, iron bar, walkie talkie, green coloured military, three bags of rice recovered were recovered from them.
He said the suspects were later identified as the same armedrobbery gang who burgled the same shop on 9th August 2023.
CP Emeka revealed that on Wednesday 5th October 2023, received a call from concern citizens that the suspect stole a Toyota Camry parked around Eleme.
The Rivers Police Boss stated that a Police patrol team swung into action and recovered the vehicle at intel, Iriebe and arrested one Anthony John .
Meanwhile operatives of Anti-cultism unit on routine patrol at Rumuekine along choba road intercepted a Toyota sienna with two occupants a male and female with two years old children.
CP Emeka said one Miss peace Effiong was arrested while the acclaimed husband took to his heels.
He said Miss Effiong confessed to have been contacted by some persons in Lagos to procure new born babies in PH with payment of over 2 million naira.
Relatively On Wednesday 11th Octobe2023, a sack bag was discovered at Odiani bidge by men of Elelewon Police Division.
CP Emeka revealed that upon inspection, a pump action gun suspected to have been thrown away by criminal elements who cited the Police was recovered.
Also on Wednesday 11th October,2023.Police operatives attached to Special Area Rumudomaya intercepted one Promise Dimkpa aged 20 and recovered a locally made pistol.
In the same vein, CP Emeka announced that on 12 October,2023 Police operatives from Olu-Obasanjo Division raided a criminals hideout at CFC junction area where suspected criminals took to their heels while one revolver pistol was recovered.
Meanwhile Nkpolu Police Division arrested some suspected cultists at an entrance of a University gate.
CP Emeka explained that the Police Division received information from acting Chief Security officer of the institution that some young men in a vehicle attacked and wounded another young man inside the campus.
He said the Police intercepted the suspects in a car at the institutions main gate and upon inspection three sharp English axe and locally made pistol was recovered.
CP Emeka also paraded a woman who bathed her husband with hot oil in Etche.