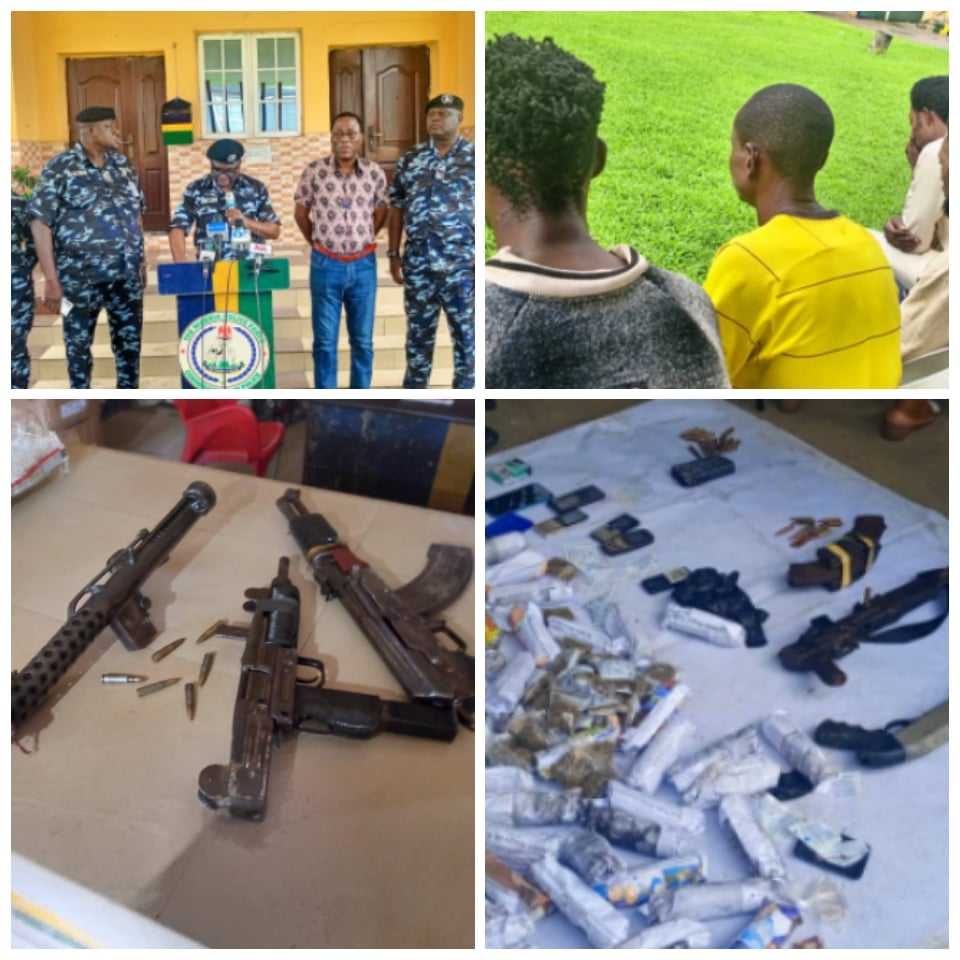 Police Raids Cultists Camps, Arrest Fake Alerts Syndicates, Parades 4 Others Suspects Linked To Car Snatching, Murder
The Rivers State police command on Friday paraded four suspects in connections to various crime in the state
Briefing Newsmen at the command Headquarters on Moscow Road, The State Commissioner Of Police CP Emeka Nwonyi said the command has decided to take the fighting of crime  to the criminals hide and lauded it clear that they will not rest on their oars.
He chronicled the command achievement and cases yet to be concluded as thus:
1. Following credible information, Operatives of Rivers State Police Command's Octopus Unit, Port Harcourt, raided a notorious criminal hideout at Rumuokwuta, Obio/Akpor Local Government Area, on Friday, 28/07/2023 at about 1750hrs. On arrival, the notorious criminals took to their heels, escaped through the canal, and abandoned the following items: fourteen rounds of 7.62 mm long-live ammunition, one Lar Rifle Magazine, Fifty wraps of weeds suspected to be Indian Hemp, forty-two sachets of hard drugs suspected to be loud, Six sachets of Chelsea drink, Twenty sachets of Eagle drink, Ten sachets of Tombo bitters, Four packets of Chesterfield cigarettes, and five assorted GSM handsets were recovered.
An investigation is in progress, and efforts have intensified to arrest fleeing suspects.
2. Operatives of the Anti-cultism Unit, on Sunday, July 30, 2023, at about 1430hrs, while on stop and search along Aluu/Omagwa Road, sighted a Volvo vehicle with reg. no. NKR 933 XA registered in Imo State with two occupants.
Upon sighting police operatives, they abandoned the vehicle and escaped into the bush.
The vehicle were searched, and the following items were recovered: One AK-47 riffle, Three AK-47 magazines, 12 rounds of 7.66mm ammunition, One pump-action riffle, and an empty black bag.
Efforts in place to arrest other fleeing suspects.
3. Following a complaint from one Wale Alabi 'M' of Pepple Avenue UPE Borikiri, Police operatives from the Command arrested one Precious Frank 'M,' of Bakana Community Degema LGA, Rivers State, on Tuesday, 01/08/2023 at about 1900hrs.
The suspect, who specializes in generating fake alerts from the app, uses the same to defraud innocent POS operators and shopkeepers.
Luck ran against him as he cleverly went to the complainant's shop, did a transaction of One Hundred Thousand Naira and generated a fake alert message, and immediately disappeared from the area.
On receiving the complaint, a thorough and diligent investigation was carried out, which led to the arrest of the suspect and the unravelling of the techniques adopted by the fraudsters to defraud the unsuspecting victims.
The suspect has equally given detailed information that will surely lead to the arrest of other members of the gang, who also go about defrauding unsuspecting victims using the same method in the Port Harcourt metropolis.
The fake App will always display successful transactions to confuse their victims without remitting the money to the victim's account. Pragmatic efforts are put into ensuring that other culprits are also arrested.
4. Operatives of the Command, on Thursday, 03/08/2023, at about 1800hrs, while conducting Stop and Search along Port Harcourt/Aba Road, intercepted a black Honda Crosstour without Reg. No. with two occupants that looked suspicious, namely,
On interrogation, it was discovered that the vehicle was removed at No. 1 Lawson Avenue, Wali Estate, Port Harcourt.
The suspects confessed to the crime, and an investigation is underway to arrest other members of their gang.
5. Operatives of Hunter Strike Unit, on Thursday, 03/08/2023, at about 2200hrs at Casablanca Axis GRA Phase 2 Port Harcourt, engaged three suspected Kidnappers who attacked/blocked a grey Toyota Corolla Car with Reg. No. GGU 43 AE, driven by One Samuel Okonkwo "m", a Bolt driver, and One Okorie U. Arinze "m", a passenger, about to Kidnap them when Police operatives arrived at the scene. As an exchange of gunfire ensured, the Hoodlums fled and abandoned the Vehicle and Victims.
Investigation is ongoing to arrest the other members of their gang.
6. Operatives of the Command on Friday, 04/8/23 at about 0730hrs, following incessant raid on cultist camps, one General '2man' 'm' of Ogbologbolo Community Ahoada West, leader of the Green Landers Cult Group, surrendered to the Police operatives one AK-47 rifle with six live rounds of 7.62 x 39 mm calibre and two SMG riffles.
An effort has been emplaced to launch more raids on the hoodlums for the possible recovery of more arms and ammunition in their possession.
7. Operatives on Wednesday, 02/08/2023 at about 1730hrs one Isaac Okoma 'm,' 39 yrs old, of Alebiri Town, Ekeremo Local Government Area, Bayelsa State, presently residing at Mass Central Hotel, UPE Sand filled Borokiri, has been arrested in connection to the murder of the late Josephine Ibiju 'f,' of Baptist Waterfront, which was reported on Saturday, 10/06/2023.
A preliminary investigation has commenced, and the case will soon be transferred to SCID, Port Harcourt.
In light of this, I sincerely appeal to the good residents of the State, urging them to actively support our committed police operatives as they work tirelessly to combat all types of criminal activities within the state.
Gentlemen of the press, thank you for your support.