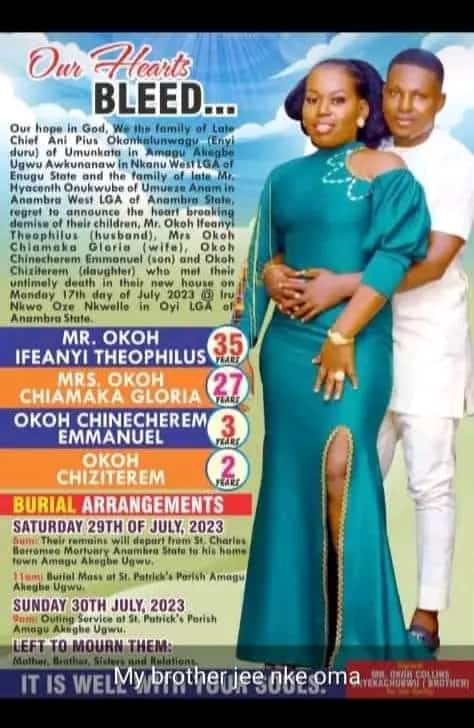 Police Reveals How Family Of Five Died In Fresh Autopsy Result
On 17th July, 2023 at about 0400hours the lifeless bodies of a family of five were discovered in a bungalow at Oze Village, Nkwelle Ezunaka. Information in the public domain had it that they died the first night they moved into the new building.
Names of the deceased were given as Ifeanyi Okoh, 32 years from Akebugu, Enugu State; his wife Chiamaka Okoh, 28 Years; Two of their children, Chinecherem Okoh, 3 Years, and Catherine Okoh, 2 Years as well as the mother of the wife, Anthonia Onwukube aged 56 years.
A visit to the scene of the crime revealed a generator connected to the house electricity grid and kept in a confined space without proper ventilation.
An autopsy conducted on the corpses revealed the cause of death to be carbon monoxide poisoning. They were killed by fumes from the generator.
The Commissioner of Police, CP Aderemi Adeoye while commiserating with the bereaved families wishes to advise the public on the terrible dangers of operating generators indoors as carbon monoxide which is emitted in the fume is a deadly gas that has wiped out several families due to ignorance. Generators are to be kept in well-ventilated spaces while in use. He assures that the Command will continuously sensitize the public to domestic hazards that may claim life in order to reduce such unnecessary and avoidable deaths.
DSP Tochukwu Ikenga
Police Public Relations Officer,
Anambra State Police Command,
Awka.
28th July 2023.