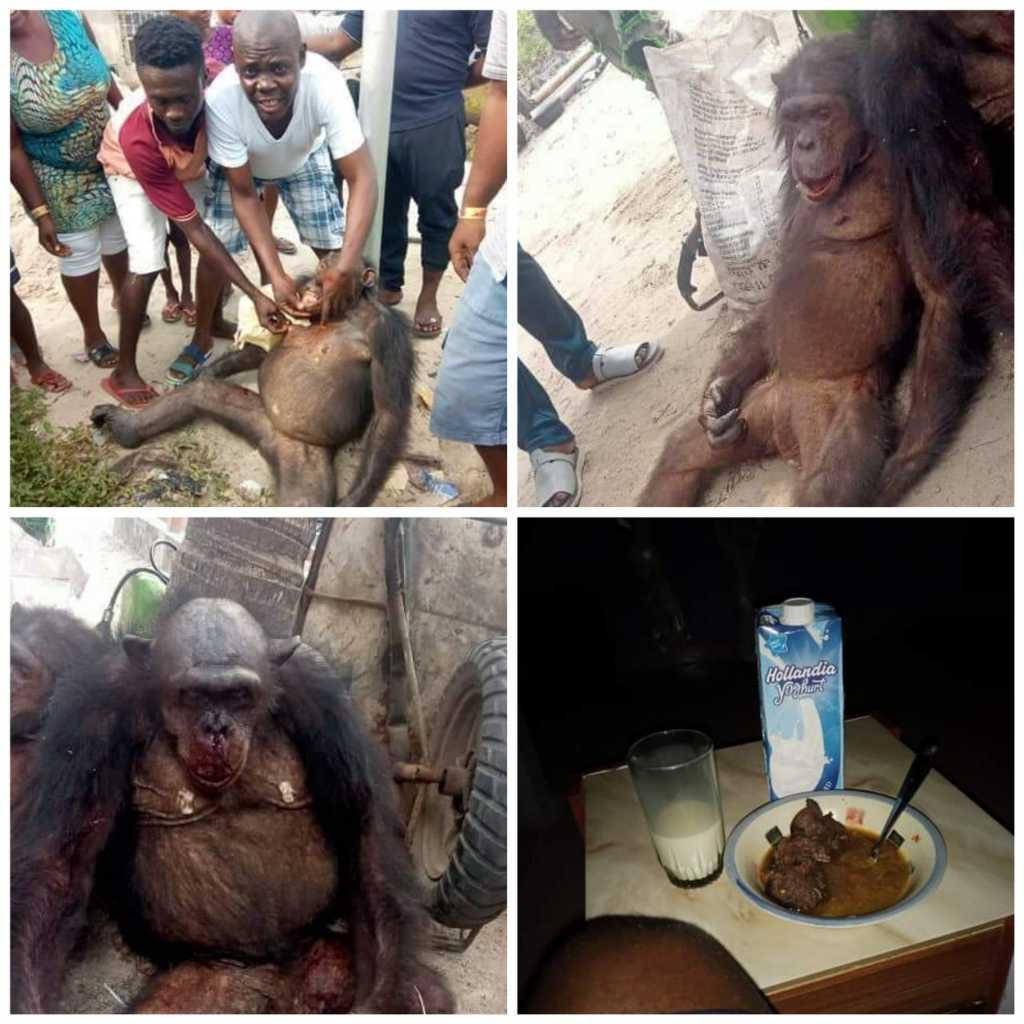 Protect These Endangered Species-Environmentalists Raise Alarm After Bayelsa Man Shows Off Chimpanzee Hunted Down From Nembe Forest
Environmentalists, tourists and residents have reacted over the killing of chimpanzees in the Edumanom Forest Reserve, in Nembe Local Government Area of Bayelsa State.
Photos of hunters boasting of killing and selling chimpanzees to interested locals who eventually used them for pepper soup surfaced on Facebook. One Ebiowei recently shared photos of "Chimpanzee meat pepper soup" which he washed down with yoghurt.
"Gunned down by a hunter in the forest today at Nembe, Bayelsa state. A good meal." he captioned the post.
Reacting to the development, environmentalists raised the alarm and expressed worries that if the federal and state government fail to do more to protect these endangered species, they may be hunted and eaten into extinction.
Speaking with the Nigerian Tribune, the Project Officer of Environmental Right Actions (ERA) Niger Delta Resource Centre in the state, Morris Alagoa, described the hunting of Chimpanzees in the Edumanom Forest Reserve as unfortunate, adding that it appears there is lack of seriousness and follow through actions on the part of the authorities, both at the state and federal level.
"I am aware that there are laws prohibiting the killing of such endangered species of animals in our environment. Unfortunately, there seems to be a lack of seriousness and follow through actions on the part of the authorities; state and federal. Besides, it is unimaginable that such is happening in a government recognized and reserved forest which is gazetted too," he said.
"The civil society has not given much attention to this area. Sadly, the government in our clime did not support civil society. Must we continue depending on foreigners even for our own welfare? There is a need for the government to meet with traditional rulers in the state to work towards effectively protecting and preserving these animals for posterity.
"Forest Guards should be properly engaged and given adequate training on how to protect government reserved forests," he added. When contacted for comment, a renowned tourist and SSA to the Governor on Tourism, Mr. Priye Kiyaramo, said: "It is regrettable that the future of chimpanzees in Edonamon National Park in Bayelsa State still remains in peril. There are cases where infant chimpanzees are frequently taken alive and sold in cities as pets."