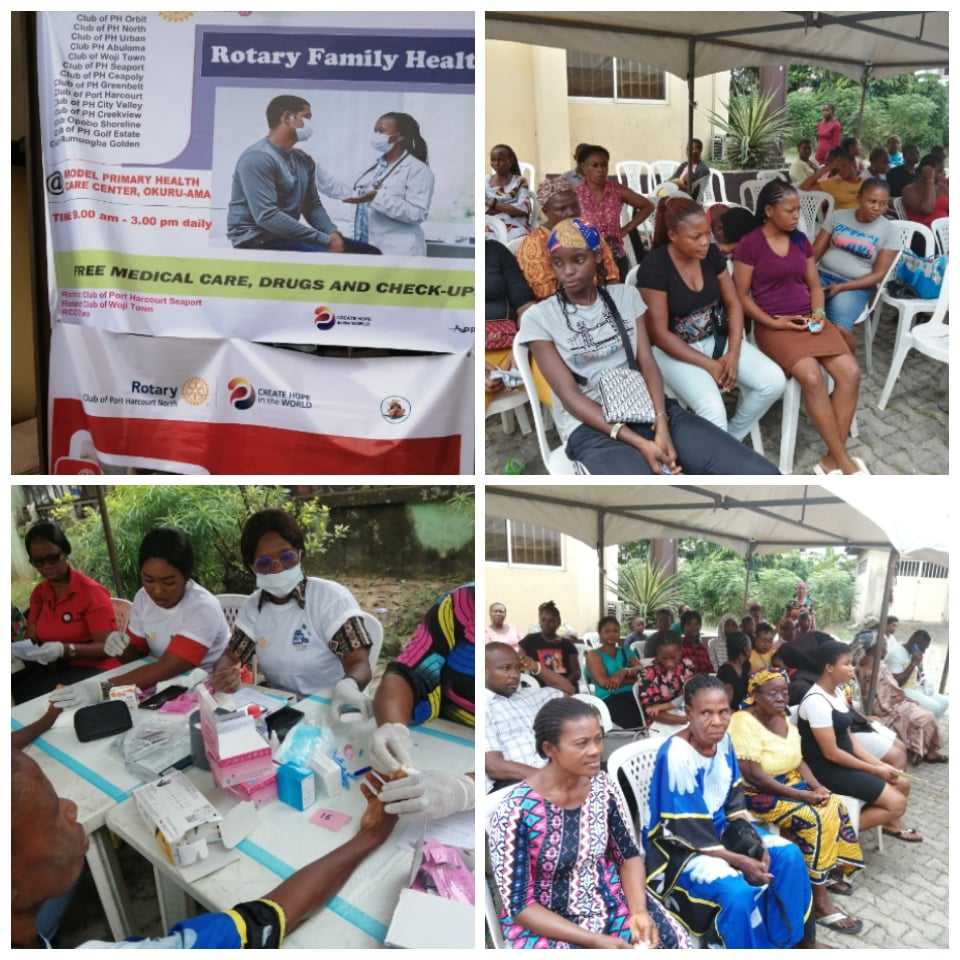 Rays Of Health Hope As Over 400 Okuru-Ama Residents Benefits From District 9141 Rotary 3 Days Free Medical Care, Drugs, Checkups
Over four hundred persons from Okuru-Ama Community In Portharcourt have benefitted from the Rotary International family Health day which is celebrated annually to render free Medical care to various localities in our communities to enable indigent persons who do not have access to medical care to utilize them free of charge and also sensitize the public on emerging health threats, prevention and treatments.
The 3 days event featuring Health Talks, Symbolic Immunization Exercise, Free Medical care, drugs health Check-up distribution of Mama kits, gift presentation, mini rally and soft entertainment at the Okuru-Ama Rotary Family Health Day put together by Fourteen Rotary Clubs and three Rotaract clubs in District 9141  which include  Rotary club of Port Harcourt Orbit, RC PH North, RC PH Urban, RC PH Abuloma, RC Ph Woji Town, RC PH Seaport, RC PH Ceapoly, RC PH Greenbelt, RC club of Port Harcourt, RC PH City Valley, RC PH Creekview,  RC Club Opobo Shoreline,  RC PH Golf Estate and RC Rumuogba Golden in partnership with Rotaract club Of RC PH Seaport. RCC WOJI and RCC Okuru
Pix. cross section of Rotarian During registration
The Rotaract Clubs Include an international based  charity and humanitarian service Club has reaffirmed it's commitment in reducing the high rate of maternal and child mortality within it's
Speaking  Newsmen on the Importance of the free medical Outreach, The coordinator of the 14 Rotary Clubs VICTORIA I. OCKIYA-JACKSON who is also the president of RC PH Seaport said a lot of local people within our community do not have access to medical care and even where they have a health facility. will complain that they dont have money to pay for drugs and as a result will shy away from taking proper treatments for minor health issues. she the free medical outreach which is carried by various Rotary clubs in port Harcourt at different model primary Health centers in partnership with Rotary Foundation, Bill and Melinda gates foundation, Health professionals, Rotaractors and Rotarians called for renewed awareness on the threats of Poliomyelitis; a disabling and life-threatening disease caused by the polio virus.
Rtn OCKIYA-JACKSON also noted that the three days Rotary  family health day  which  started on Tuesday The 24th October, 2023 was rounded off on Thursday 26th October 2023 on a high note with sensitization of mothers on the need to vaccinate their babies accordingly and what to do when they observe related symptoms.
PIX. Rotarian Victoria Ockiya-Jackson
One of the facilitators, A Medical Doctor Joseph Ebosetale Elimimian who spoke to Journalist at the sideline of the event speaking on the need for For Family Planning, Health checks  lamented that most sexually active women do not even understand their cycle, when they are ovulating or not, and end up taking non prescribed drugs when they get pregnant or running from pillar to post. He said the Family planning awareness and sensitization will better help women plan their life and avoid unwanted pregnancies.
Pix. Rotarian DR. Joseph Elimimian and Dr Richard Ockiya attending to patients
For her part the president of Rotary club of port Harcourt Orbit Anita Ogona told newsmen that the event which started on World polio Day in partnership with Rotary International and other health stakeholders who have been in the forefront of decades-long war against the dangerous Poliomyelitis disease, reaffirmed Rotary international commitment in reducing the high rate of maternal and child mortality within it's region
She said with little donations from Rotarians and good spirited individuals with Rotary Together, we can eradicate polio
A cross section of the beneficiaries who spoke to Newsmen after they have been attended to, where full of praises to Rotary for putting smiles on their faces by bringing the free health care programme to their community, the lamented the high cost of living standard and inability to afford routine drugs or pay consultations fees as the reason for not seeking professional medical help whenever they fall sick and said they are excited to jump at this opportunity presented by Rotary free medical health program to Okuru-Ama community.
They also called on other organisation to emulate Rotary and give back to the society. They said so many persons within the community are poor, and could not afford to seek for professional help, but with gestures of this nature, gradually the health gap between the have and have not, will closeup for a wealthy nation to thrive