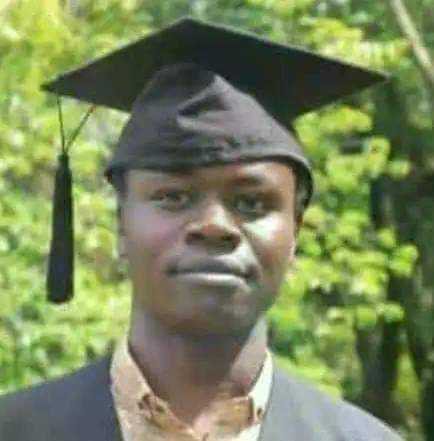 Reactions As First Class ICT Graduate, Commits Suicide Over Unemployment
A family in Kapsongoro village in Chepsangor, Nandi County, Kenya, is in mourning after their son allegedly took his life after failing to secure a job.
Michael Kibet, a graduate of Jomo Kenyatta University of Agriculture and Technology (JKUAT), is said to have committed su!cide at his brother's compound in Lessos after searching for employment opportunities in vain.
Kibet, 26, graduated with a First Class honours degree in ICT and Telecommunication from the Juja-based institution in 2021 having also scored A plain from Meitei Boys High School in Tinderet Nandi.
Area Chief David Rugut confirmed the incident on Wednesday, June 7, 2023, saying the deceased hanged himself outside his brother's house out of frustration.
He said the family had lost not only a bright student but a dependable professional in the entire Chepsangor location.
"We are really saddened by the loss of Michael. He was a hardworking and disciplined boy in our location. He ended his life out of frustration according to his brother," Rugut said.
The deceased hoped to secure employment immediately after his studies after graduating top of his class.
"The locals were really shocked by his demise. Many didn't believe as he has been a very humble boy and very responsible," the chief said.
Until his death, Kibet was living with his mother, a retired nurse and single mother, who has been educating her children alone after the death of her husband.
"It is really difficult to tell what could be the major contributor to Kibet's death as his parents really laid a good foundation for them educationally, it is really sad losing such a vibrant young man," he added.