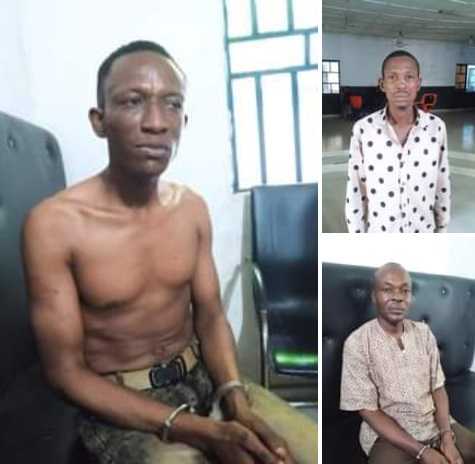 Rivers Man Connive With Pastor, Kills Hunchback Son To Extract Mercury
A Rivers State-based vigilance group, ONELGA OSPAC, said its men arrested three persons, including two pastors, over the death of a 24-year-old man, Lucky, in the Port Harcourt area of the state.
Lucky reportedly died after an operation to remove his hunchback.
An officer with the Planning and Advisory Committee of the security group, codenamed OSPAC, said the suspects were nabbed while trying to flee Port Harcourt.
One of the suspects, who was said to be the pastor of a new generation church in Osiakpo, near Omoku in the state, Olatoye, 54, said the victim was handed over to him by his father, Ejike, and Ejike's younger brother, Pastor Paul.
Olatoye, during interrogation, was said to have revealed that the duo brought Lucky to him for a surgical operation to enable the family to extract 'mercury' from his hunchback.
He said, "Paul said his brother (Ejike) had a son who had a hunchback which he was planning to do away with.
"I asked him why, and he said the boy was a thief; the boy was this and that. He said when the boy was much younger, the father attempted to sell him, but it didn't work out well.
"He asked whether I knew the people who could take up the boy. I told him that I would make inquiries."
The suspect noted that they all agreed to a surgical procedure and contacted an associate said to be in Abeokuta, Ogun State, who promised to pay N10m for 'mercury' which would be taken from the victim's hunchback.
He added, "The boy in question (Lucky) even came to meet me, begging me that if the hunchback could be removed, I should help him. He said he wanted to be like a normal human being.
"I told them that he might not survive the procedure, but he said he would survive it. That was when we fixed a date for us to travel for the procedure.
"My first contact was an NGO in Owerri, Imo State, which said they would extract the 'mercury' and pay us N5m.
"I asked him what would be our own percentage. At last, both Paul and Ejike accepted the N5m offer, but the NGO didn't show up again."
The suspect explained that he approached another 'contact' in Abeokuta, Ogun State, which offered to pay N10m but that the payment would be made in two or three months' time, which all parties agreed to.
He noted that the victim's father, Ejike, kept visiting his office and disturbing him.
"The day we travelled for the surgery in Lagos before heading to Abeokuta, Ejike handed over the boy to me and Paul gave me N15,000 for transportation.
"At the hospital, I called the father because of the document we were to sign, but he told me to go ahead and sign on his behalf.
"The operation was carried out, but in the end, the boy couldn't make it," he added.
Ejike's brother, Paul, 38, expressed sadness at the incident, but denied any involvement, saying he only introduced Olawale to his brother
He stated thereafter he was not involved in their subsequent discussion with Olawole and his brother, even as he also denied giving them transport as claimed by Pastor Olawale.
The OSPAC Commander, Felix Nwobakata, while addressing newsmen, said the arrest would serve as a deterrent to anyone trying to indulge in ritual acts.
Speaking through his media aide, Obed Douglas, he confirmed the arrest, adding that the two pastors and the victim's father had been arrested.
"All three suspects have been handed over to the Assistant Inspector General, Monitoring Unit, Zone 16, Yenagoa, Bayelsa State, for further investigation and prosecution."
Efforts to reach the spokesperson for the state police command, Grace Iringe-Koko, proved abortive, as she did not pick up calls put across to her phone by our correspondent.
She had also yet to reply to a text message sent to her as of the time of filing this report on Saturday.
Credits: PUNCH