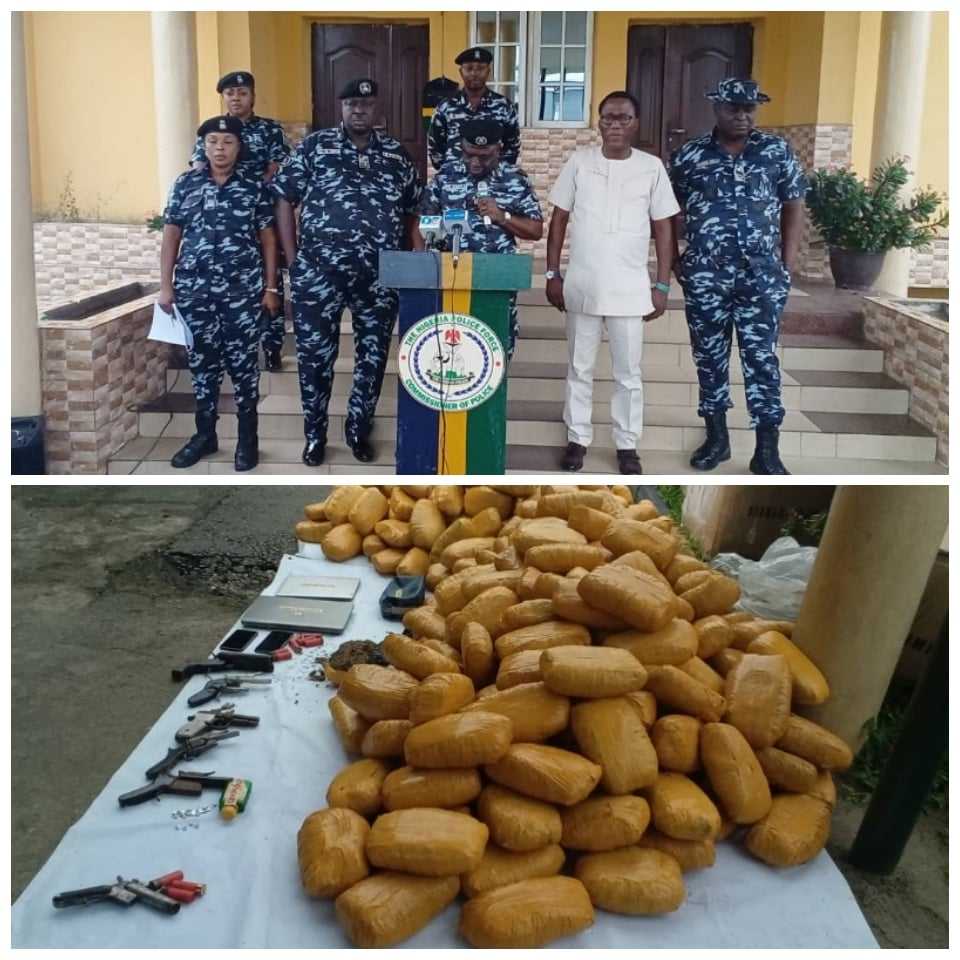 Rivers Police Intercept 300 Parcel Of Weeds Suspected To Be India Hemp, Parades 9 Suspects For Various Crimes
PRESS BRIEFING BY COMMISSIONER OF POLICE, RIVERS STATE COMMAND, CP NWONYI POLYCARP EMEKA, PSC, LLB, Ph.D. ON FRIDAY, 3RD NOVEMBER 23, 2023, AT THE POLICE HEADQUARTERS, RIVERS STATE
Gentlemen of the Press, I called you this morning to give you a briefing on some of the accomplishments of the command in accordance with our constitutional mandate to safeguard the lives and property of Rivers State residents.
1. NEUTRALIZATION OF SUSPECT/RECOVERY OF ARMS AND AMMUNATIONS: Operatives of the command, on 1st November, 2023 at about 4:00pm, following credible information received about suspicious and clandestine movement of notorious gang members of armed robbery syndicate, who checked in the Hotel located at Chokocho along Etche road, in Etche L.G.A of the State. Operatives of Octopus strike force immediately swung into action, the suspect and other members of his notorious gang who have been at large and on the trial of the command watch-list who also attacked one victim name withheld, on 3rd March, 2023 at about 8:30pm at Rumodara, Port Harcourt. The suspect who is the leader of the team shot the victim on his left leg which later resulted to amputation of his leg, also snatched his Ash color Geely Coolray Salon car valued Thirteen Million naira (N13, 000, 000. 00) and also robbed him his two GSM handsets, Samsung Galaxy note 20, Techno Planton 1 both valued Eight Hundred and Fifty Thousand naira (N850, 000 .00) and other personal valued properties.
The notorious gang leader in desperate bid to escape arrest, opened fire on the team of operatives but was brought down by the superior fire power of the police. However, he was rushed to the Hospital for medical treatment but was confirmed death by the Doctor on duty. One AK47 Riffle, Two magazine, and Twenty one rounds of Ammunitions of 7.62mm Ammunition, Police Handcuff with key were recovered. Also, the receiver of the stolen vehicle were arrested, one Yakubu Imman Abdullahi 'm' aged 35yrs, and Nuhu Saleh 'm' aged 41yrs
Investigations on going to arrest other fleeing members of his gang.
2. RESCUE OF KIDNAP VICTIM AND RECOVERY OF SUSPECTS' OPERATIONAL VEHICLE: The Operatives of the Command on 1st November, 2023 at about 5:30pm, equally rescued an abducted victim, name withheld in Rumuagholu, off Eligbam Road, Port Harcourt, who was abducted by three armed men and a woman who whisked her away from Evo Road GRA, Port Harcourt.
Police operatives mobilized and swung into action by giving the gang of hoodlums a hot chase. In an attempt to escape, the hoodlums forced the victim off the vehicle in motion along PH-Aba Express Road, and the escaped victim was immediately rescued by the operatives.
The suspects operational vehicle, a Toyota Camry blue colour with reg no. Lagos KRD 881 CE, was later recovered after persistent pursuit.
Investigation is in progress, and efforts have intensified to arrest fleeing hoodlums and recover their operational weapons.
3. ARREST OF NOTORIOUS ARMED ROBBERY/KIDNAPPER: Operatives of the Command, while on stop and search at YKC roundabout on 1st November, 2023 at about 10.30pm arrested one Victor James 'm' 27yrs of Akwa Ibom State, with a locally made pistol and three cartridges. The suspect confessed to having the locally made pistol and he is into car snatching and kidnapping. Efforts have been emplaced to arrest other members of the gang.
4. ARREST OF SUSPECTED ARMED ROBBER/RECOVERY OF ARM: Operatives of the Police Command on 15th October, 2023 at about 10am while on routine patrol along NTA Road sighted a black Toyota Corolla 2005 model with Rivers reg. number NDN 525 PG. The said car was brought to the base, and upon search, a locally made revolver pistol with 3 x 9mm bullets and a cutlass were recovered. The suspect, Destiny Amma 'm' 29yrs old, who is also a member of gangs of criminal terrorizing the State, has been detained while preliminary investigation is underway.
5. ARREST OF ARMED ROBBERY SUSPECT: Operatives of the Command, on 27th October, 2023 at about 10:30pm arrested and transferred one Prince Ikiriko 'm' aged 23yrs of No. 17 Obi Street, Mile 2 Diobu, a native of Abonnema town, Akuku-Toru L.G.A, Rivers State, with one Locally fabricated Revolver pistol and four rounds of live ammunition.
On interrogation, he confessed to having been involved in several armed robbery activities along Aba-Port Harcourt Road, Port Harcourt.
6. UNLAWFUL POSSESSION OF HARD DRUGS: Operatives of C4i Intelligent Unit, on 28th October, 2023, at 5:20pm base on credible information received, intercepted one Volkswagen Bus with Reg/No MUS 910 YA, white in color, when they sighted the Police the driver took to his heels, the police gave him a hot chase and arrested him, upon search in his vehicle and recovered three hundred (300) parcel of weeds suspected to be India hemp. The suspect and the exhibit are in police custody, investigation on going.
7. ARREST OF SUSPECTED ARMED ROBBERY SUSPECT: Following the transfer of an armed robbery case with one suspect, Uzoma Ubani 'm' by Elelenwo Division on 22nd September, 2023 at about 2pm, Police operatives, C4i Intelligent, Anti-Kidnapping followed up on the case, which led to the arrest of one Kelvin Nwankwo 'm' a native of Delta State who sustained a gunshot injury while escaping arrest.
Items recovered include one locally made pistol with a live cartridge and a minibus with registration number Abuja ABJ 93 XE at Gariki, Elelenwo Port Harcourt, by police operatives. The suspects specialized in robbing their victims at gunpoint of their valuables.
The injured suspect is receiving medical treatment while an investigation is in progress to trace and arrest other gang members.
8. ARREST OF MEMBER OF A KIDNAPPER: Sequel to the transfer of a case of kidnapping from Eneka Division where a victim was rescued, operatives of the Command in furtherance of investigation on 25th September, 2023 at about 3pm arrested one of the suspects named Chidiebere Chima 'm' age 41yrs, a native of Nkediru LGA of Imo State at Oyigbo area of Rivers State. The suspect from investigations was fingered in the kidnap of one victim name withheld at Hastrup Estate, Port Harcourt.
The suspect was arrested at the Oil Mill/Eleme junction, where he came to pick up a supposed ransom of three million naira.
Upon interrogation, he confessed to having drugged the victim on 19th September, 2023 at about 4pm, taken him somewhere in Eneka Bush, tied him, and removed almost all his teeth. The suspect led operatives to recover the victim's Toyota Corolla, a silver 2005 model not yet registered.
Efforts to apprehend other members of the syndicate is in progress.
Curbing crime in our society is a collective job. I hereby call on all residents of Rivers state to be open and supportive of security operatives in the fight against crime and criminality and also urges all parents/Guardians to caution their children/Wards no to be associate with people of nefarious characters and they should always let people know their whereabouts most especially this festivity period.
Thanks for your support, as always.