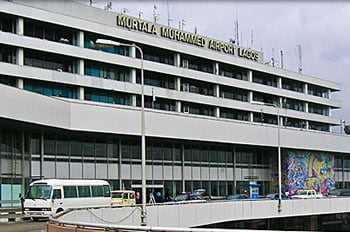 Runway Airfield Lightning Systems Stolen From Murtala Muhammed Airport 9 Months After It Was Reinstalled
The lighting system on the domestic runway 18 Runway/36Left of the Murtala Muhammed Airport, reinstalled just nine months ago, has been stolen.
Information Availed to newsmen indicates that criminals seized the opportunity presented by a three-month runway closure to commit this high-profile crime at Nigeria's primary airport. Sources that spoke with the platform suggest that some workers from the Federal Airports Authority of Nigeria (FAAN), working with outsiders who had access to the runway site, may be responsible. "The criminal took advantage of the closure to commit the crime. I cannot give the actual worth of the theft, but almost all the lighting was removed", a source confirmed.
The permanent secretary of the Ministry of Aviation, Dr. Emmanuel Meribole, upon inspecting the damaged site, issued directives to suspend some heads of departments at FAAN.
An investigation is currently underway to identify the culprits of this significant safety equipment theft.
This event, causing significant frustration amongst FAAN and sector insiders, highlights the airport's security vulnerabilities.
The thieves managed to remove substantial components undetected, which has been attributed to potential internal sabotage and the dense surrounding forest, which offers ample cover.
It's been noted that this is not the first theft at the Lagos airport. Prior incidents, including the theft of navigational equipment by workers of an FAAN sister agency, point to a systemic issue with security breaches.
Despite regular security patrols, the perpetrators have developed a habit of hiding in the thick forests whenever they spot an oncoming security van.
Prior to the lighting system's reinstallation in November 2022, the runway had been shut down for 15 years, forcing airlines to use the longer international runway and consume more fuel, leading to financial stress.