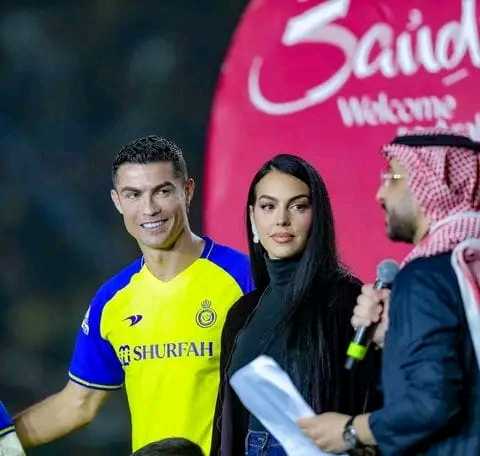 Saudi Arabia Bend Laws Forbidding Non-Married Couples To Live Together For Cristiano Ronaldo And Girlfriend Georgina
Saudi Arabia is likely to bend its laws forbidding non-married couples to live together, for Al-Nassr's new signing, Cristiano Ronaldo. The 37-year-old Portuguese forward joined Al-Nassr last month after a mutual termination of his contract with the premier league side, Manchester United.
However, Cristiano Ronaldo, alongside his family, who have arrived in Saudi Arabia Ronaldo 'is likely to be let off the hook for living with partner Georgina Rodriguez in Saudi Arabia' as they will reportedly break the law in Saudi Arabia but aren't expected to be punished by the authorities for living together as non-married couples. The five-time Ballon d'Or winner, who has been unveiled by his new Arabian club, is already living in Saudi Arabia with Rodriguez whom he met while playing for Real Madrid back in 2016, and has had two children with – Bella and Alana. The Portuguese star also has three other children – Cristiano Jr. and Eva and Mateo – who are twins.
Daily Mail reported that according to EFE – a Spanish news agency – Ronaldo is unlikely to be punished due to his status as one of the most marketable athletes in the world .According to the report which quoted two separate Saudi lawyers, the relevant authorities are expected not to become involved in Ronaldo's situation.
"Although the laws still prohibit cohabitation without a marriage contract, the authorities have begun to turn a blind eye and do not persecute anyone. Of course, these laws are used when there is a problem or a crime," one of the legal professionals said. Daily Mail quoted the second one saying "The Saudi Arabian authorities, today, do not interfere in this matter [in the case of foreigners], but the law continues to prohibit cohabitation outside of marriage."
Ronaldo, who will reportedly earn £175m a year playing for Al-Nassr, would not be making his debut for his Arabian side as he is yet to serve a two-match FA suspension for smashing an Everton fan's phone last season.