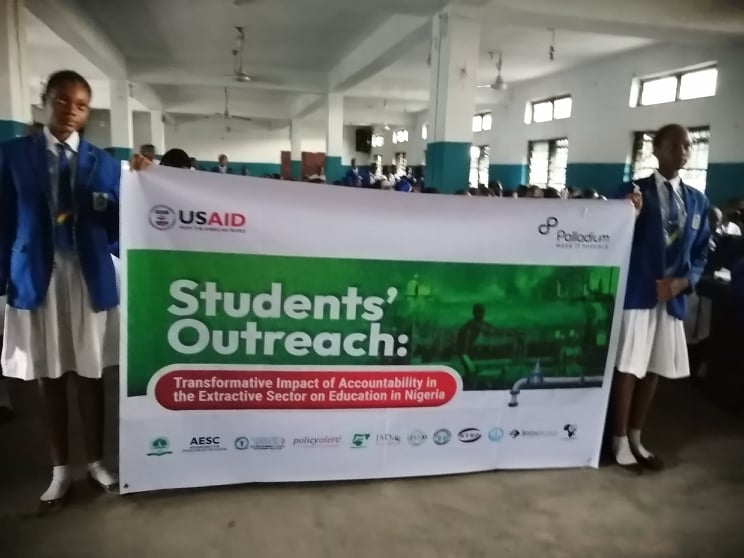 Science Students Demands For More Education, Transparency, Accountability In Extractive Sector
To catch them Young, The Accountability in Extractive Sector Cluster (SCALE)  have embarked on Impact sensitization, students outreach engagement at Niger Delta Science School in Porthacourt, Rivers State, Nigeria with the theme "The Transformative Impact Of Accountability in Extractive Sector on Education" with over one hundred students in attendance.
Speaking to Journalist on the sideline of the event, Chinedu Bassey one of the representative of SCALE  said "the reason for the students engagement is that the resources that come from the extractive sector also belongs to them, "We believe in what they call inter -generational equity. From January this year till past few weeks the students of tertiary institution were all at home .They could not go to school because there was strike and all these are subject of issues around management of resources"
"As it stands, Nigeria main source of revenue is from the extractive sector and that is the reason we think is important that the upcoming generation should know how these resources are being used and why they should lend their voices to talk about it .
"We are hoping that this kind of workshop or seminar with students will help .By the time the students start uploading some contents online requesting for accountability in this sector, we think that would draw the attention of the people who are responsible to do the right thing.
"We are hoping that corruption will be eradicated from extractive industry. We will keep working on it. Before now we were talking about having a law which lingered for about twenty years and today we have a law".
Also speaking at the end of event the Deputy Director of Niger Delta Science School Mr. Chinedu Uzor,  said " in this sector from what I have gathered I think there is a lot of things that need to be unearth because if you look at the way things are going with the level of stealing from the industry ,I think more information needs to be at people's disposal so that they can be aware and a lot more question can be asked. "Even the children from this exercise that has been conducted today. The children have been made to know that this type of sector exist in our society that they should learn to ask questions so that tomorrow when they get involved they will know what to do.
"Concerning the trouble we are facing today I want to attribute a lot of them to lack of transparency in the extractive industry" .
Mr Uzor commended the organizers of the programme and urged them to spread it further to school of higher learning.
Joanna Aloaye, a Senior Secondary School(SS) 3 student in an interview with Journalists said the training has created the awareness to demand for accountability and transparency in extractive industry. "I learnt how we as the young generation can speak up and influence positive change in extractive sector.
"As of now I look at my environment, I see that there is a crucial need for transparency, accountability and honesty so that the sector can thrive and economy can grow, so that there can be provision for basic amenities ."
Earlier, Amaechi Kelechi one of the representative of the group in his opening speech advised the students to pay adequate attention to the training in order to put knowledge acquired from the training to practical use