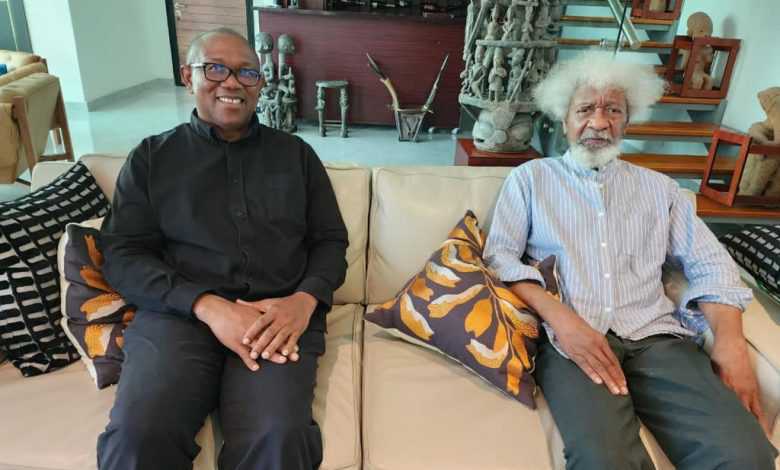 See How Obidients Attack Peter Obi, For Visiting Prof Wole Soyinka In Ogun State
The presidential candidate of the Labour Party (LP), Peter Obi, has been criticized by his supporters, referred to as the 'Obidents', over his visit to Prof Wole Soyinka.
Gists9ja earlier reported that the former Anambra State governor had visited the Nobel Laureate, Prof. Wole Soyinka on Sunday, taking to his official Twitter page to describe the meeting as enriching.
According to reports, the LP candidate was to make reparation for the recent verbal attacks that ensued between his supporters and the Nobel laureate.
Recall, supporters of the Obi had called out the Professor on social media after he, in a statement titled 'Fascism on course', accused the LP candidate of generating "a climate of fear" in the country due to how they criticize anyone who dared to disagree with their presidential candidate.
He described Obidients as "one of the most repulsive, off-putting concoctions I ever encountered in any political arena, " saying their "refusal to entertain corrective criticism, even differing perspectives of the same position has become a badge of honour and certificate of commitment."
But speaking late Sunday, Obi said his visit to Soyinka "was intended to erase the needless misconceptions about the relationship between the great icon and the OBIdient family".
The former Anambra governor's visit to the Nobel Laureate has sparked controversy on social media with many of his supporters expressing displeasure, saying he shouldn't have visited a person who had described them as a threat to the judiciary.
Reacting to photos of the visit, Chigozirim Aliyu Emeakayi wrote; "Today, Peter Obi visited Prof. Wole Soyinka, the same man his moronic supporters insulted and abused. Today, Peter Obi is hustling to take a picture with Soyinka. Who is the Boss now?"
@General_Oluchi wrote, "Wole Soyinka didn't apologize. If he did, millions of obidients didn't hear it, so no one should accept an apology for me/us."
StarLight wrote, "I swear Soyinka the bigot will never even if in his dream won't support Peter Obi against Tinubu. Even if Tinubu is worse than Satan Soyinka will never vote Peter Obi when Tinubu is on the ballot. This Peter Obi visit is very unnecessary and miscalculated."
Big Cuz wrote: "I admire your desire to always be amicable but make some enemies, Chief, not everyone is your brother lol"