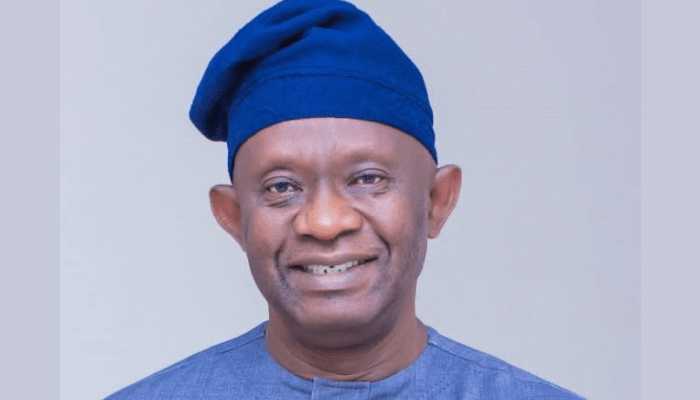 Senate Says Choice Of Land Cruiser Jeeps For Lawmakers Is As Result Of Bad Roads In Nigerian
The Chairman, Senate Services Committee, Sunday Karimi (APC, Kogi West), has dismissed public outcry over the purchase of Prado Landcruiser Sports Utility Vehicles for 469 federal lawmakers as misplaced.
He expressed disappointment over the media frenzy which followed the exposure of details of the vehicle purchase deal which has become a quadrennial ritual.
Karimi who said this during an interview with journalists after Senate plenary, in Abuja, on Tuesday, explained that the Senate took cognizance of a lot of factors including cost effectiveness, durability and the poor state of most Nigerian roads before settling for the SUVs.
He equally described public attention on utility vehicles of law makers as unfair because the situation was worse at the executive level where ministers who weren't elected rode in a convoy of several of such vehicles without a whimper from either the media or the public.
Karimi said, "Somebody that is a Minister has more than three land cruisers, prado and other vehicles and you are not asking them questions, why us? And these vehicles that you see, go to Nigeria roads today, If I go home once, my senatorial district, I come back spending a lot on my vehicles because our roads are bad. Am I talking to somebody?
"I said the decision that we took on using land cruiser is … you know they have exchanged the price analysis and other sections including the …cost and durability, are you getting me? Before they came up with this.
"It is not the decisions of the senators alone, we did an analysis before arriving at land cruiser.
"It was based on comparative of analysis of cost of technical issues and durability on Nigeria roads, are you getting me?.
"We want something that we can maintain for another four years and the issue of buying vehicles from national assembly, you know it is a reoccurring issue, it occurs in every assembly, it will always come up.
"If you got to state houses of assembly today, check out, most of them, before they were even inaugurated, the governor would have bought vehicles waiting for them even local government chairmen. I drove the vehicle my local government chairman uses. So, why (single out) National Assembly?"
In response to a question on the cost of the vehicles, he said, "The cost, let me tell you, hello, listen to me, you know I am the chairman service, when I came into the senate, when they gave me their liability, they have a liability of over N16 billion that is made up of different things including vehicles of 7th assembly 8th and 9th assembly.
"If you are a business man and you supply vehicles for somebody in 2014 or 2015 or so and up till now they are owing you. I am not trying to defend anybody, if you see them selling, hello?
"If land cruiser in the market is let's say, it is 'A' cost, you don't expect somebody that will supply it to supply it at the price they are selling it in the market.
"It has to leave a margin and the civil service for supply they allowed for 25% margin plus that and VAT and I think that VAT is 7.5. Out of that 25% margin they will still remove 5% tax from it.
"You are telling someone to supply and he may even not end up making payment for three years and you want him to supply at the price they are selling in the market, it is not possible."