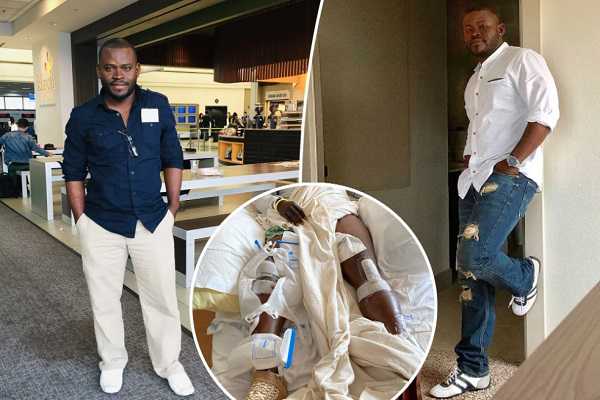 Short Man Spend N126m On Surgery To Grow Taller, So As To Get A Girlfriend
Gibson spoke on struggle with his height and how it hampered him from getting a girlfriend.
A US man has spent more than $170,000 (N126m) on a surgery to increase the length of his leg in order to help him get a girlfriend.
The surgery helped the man from Minnesota man, Moses Gibson grow 5 inches taller and build more confidence in the dating scene.
Before the leg lengthening surgery, he stood at the height of 5-foot-5 inches and even took pills that falsely advertised they would help him grow.
The 41-year-old went as far as speaking with a spiritual healer who reportedly told him it could happen if he focused on his height with his mind.
Subsequently, Gibson researched more and learnt he could grow some inches more by undergoing surgery.
In order to save up for the surgery, Gibson worked during the day as a software engineer, Uber driver at night and successfully saved more than $75,000 over a three-year period.
He eventually his underwent his first surgery in 2016, which added three inches to his height, leaving him at 5ft 8 inches.
"After the first procedure, I was happy with it to some extent, but it was always in my mind that I wanted to do a second one to complete it. I'm a high achiever. I've got the money, and I can finish the journey," he explained.
Gibson saved up $98,000 to undergo a second procedure in March of this year and hopes to add another two inches to his height.
During the surgery, doctors broke his tibia and fibula bones to screw in magnetic, Limb-lengthening nails into them which allow the body to grow new bone tissue to fill in the gaps for its new height.
Gibson anticipates the surgery would help him grow to at least 5 feet and 11 inches as he uses a height-lengthening device to help him grow by millimeters, noting the procedures have so far helped him talk to women and he's currently in a relationship.
Leg lengthening, also known limb lengthening is a surgical treatment that can reduce or correct limb-length discrepancies.
This surgery is typically done on people with a significant height difference between their legs or a limb length discrepancy due to a medical condition, such as dwarfism or a previous injury.
The treatment increases the length of a bone in a patient's arm or leg while also stretching the surrounding muscles, tendons, and ligaments.
The procedure involves making a small incision in the leg bone and inserting an external fixator device. The fixator consists of metal pins placed into the bone and connected to a metal frame outside the leg. Over several months, the pins are gradually adjusted to stretch the bone and create new bone growth.
This process can be uncomfortable and requires a lot of physical therapy, but it can significantly increase leg length.