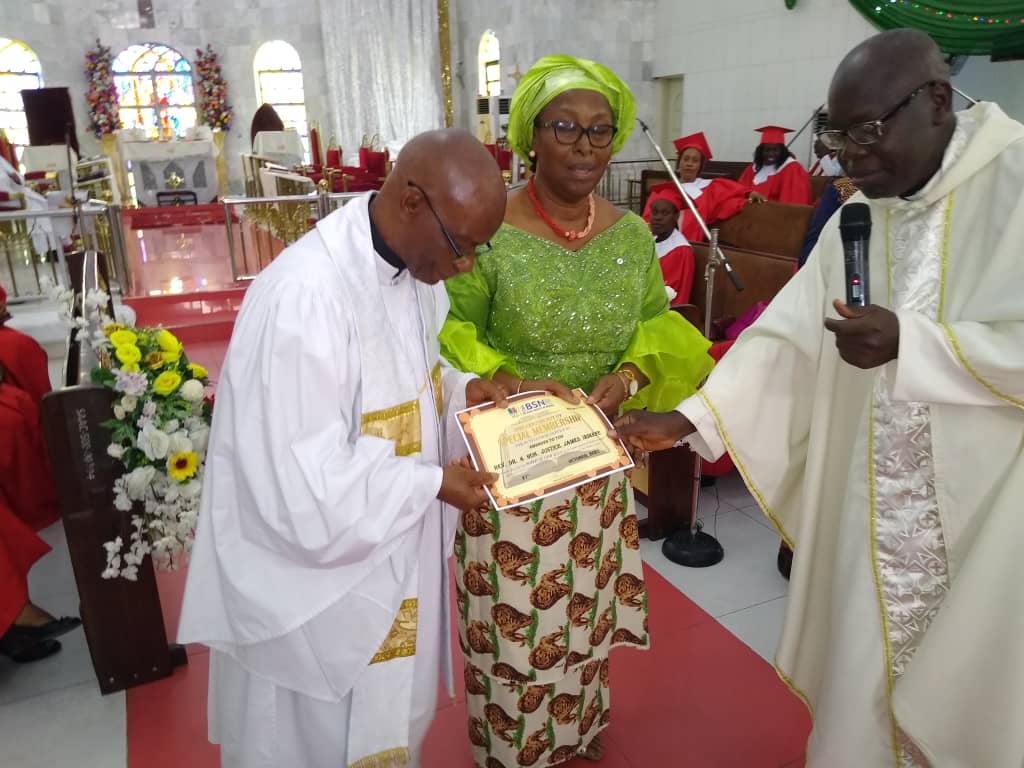 Special Member Of Bible Society of Nigeria In Evo Diocese Gets Commendations For Keeping Faith
The Bible Society of Nigeria has commended the Diocese of Evo of the Anglican Communion for keeping faith with the Society.
This commendation was made today, (Sunday) by the Chairman of the Society, Rivers/Bayelsa Area, Elder Omoni Ayo-Tamuno, BSN-SPM during the presentation of Special Member Certificate to the Curate of the Saint Andrew's Anglican Church, Rumuobiokan Deanery, the Revd Dr James Irikefe and his Wife, Hon Justice Grace Tamunobaribi Irikefe.
Elder Ayo-Tamuno also lauded the Bishop of the Diocese, the Rt Revd Innocent Ordu for giving free access to the Society to visit Churches within the Diocese.
He said "this is indeed commendable because in other dioceses there must be an expressed approval by the Bishop to do so".
Elder Ayo-Tamuno further stated, " last year we visited a church and the Vicar said " we cannot visit unless we have a written given by the Bishop ".
The Chairman, continued "this was made known to us, when the Society visited on the scheduled day of visit after letters were written".
Elder Ayo-Tamuno reiterated that the Society exist to complement the efforts of the Church among others in the area of translation and making the Written Word of God available.
He disclosed that the Couple was the first to be admitted as Special Member in the Diocese of Evo and stressed the need for more members of the Diocese and the Church to enroll as members.
The Chairman thanked the Rector of the Deanery, the Revd Cannon Gospel Onuchuku for accommodating the Society to organize to certificate presentation and said that the Society would visit the Church later in the year for more enlightenments.
In his acceptance, the Revd James Irikefe on behalf his wife, Grace Tamunobaribi thanked the Society for the honour accorded them.
Dr Irikefe who is also the Crute of the Deanery said, " since I came in contact with the Society about two years ago I made up my mind to support and encourage the Society to achieve its aims and objectives ".
Highlights of the occasion was the presentation of New Testament Bibles and other literatures to the Church.
Elder O. Ayo-Tamuno, BSN-SPM
Chairman
BSN Rivers/Bayelsa Area