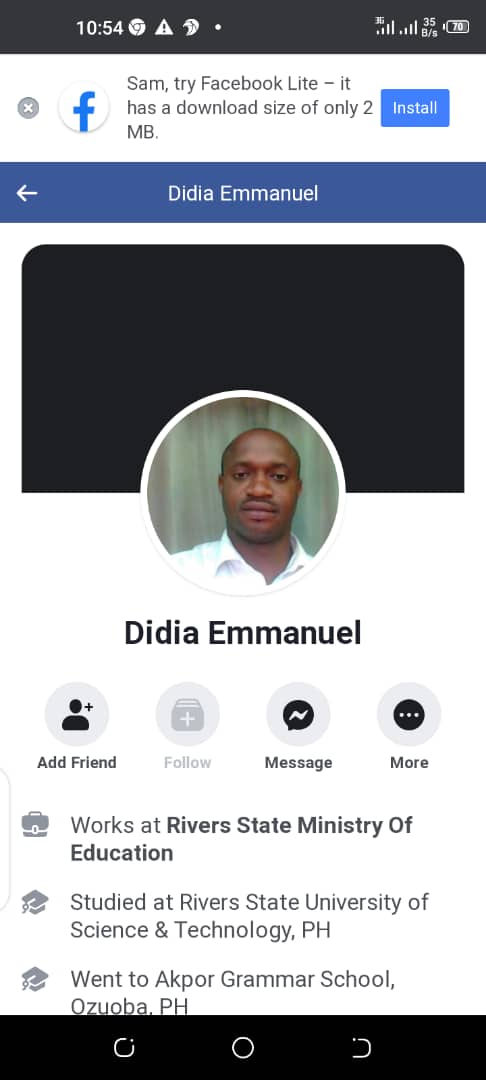 Suspected Fraudster Issues Death Threat To Rivers Journalist/Human Rights Advocate Over Exposure
A suspected fraudster Mr Didia Emmanuel on Friday night(May 5th,2023) allegedly threatened a Porthacourt based journalist and a human rights advocate, Prince Wiro investigating allegation of fraud against him, to be careful so as not to lose his life.
Mr Wiro in a statement on May 6th,2023 said he chatted Mr Didia Emmanuel on WhatsApp since his lines were switched off, to respond to allegation against him that he swindled some persons huge sum of money and issued them fake teaching employment appointment letter where the signature of key officer(s) at Rivers state Ministry of Education was forged but rather than responding, Mr Didia Emmanuel said " My friend be careful ooo, So u won't loose ur life ooo".
Mr Wiro called on the Police Authority and relevant security agencies in Rivers State to arrest and question Mr Didia Emmanuel and possibly prosecute him over threat to his(Wiro) life.
Meanwhile sources say two 'victims' who connected some persons to Mr Didia Emmanuel to 'assist' them for the job are being detained at C41 Police unit around Rivers State Secretariat and the Police is on the trail of Mr Didia Emmanuel.