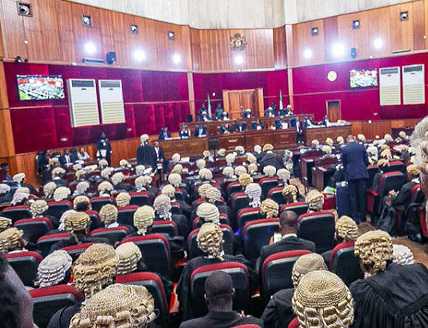 Technical "Glitches" On INEC Servers During Presidential Election Upload Was A Fat Lie- Amazon Web Service (AWS) Reveals
Presidential Election Results Refused To Upload, INEC Officers Tell Tribunal as the sitting continued on Monday 19th June 2023
To break it down for you in a simpler and more understandable way, Amazon Web Service (AWS) is the Company owner or Provider of the Servers and BVAS Machines that Inec used to conduct the 2023 general elections.
Inec had about 3 or 4 Servers that they used for the conduct of the general elections few months ago. Those servers were installed at inec headquarters Abuja by AWS who was also responsible for the protection of those servers for hackers and internet fraudsters.
Whatever thing you do with those Amazon installed Computers in Inec office called the Servers, Amazon is monitoring you live worldwide from their office. Who does what, when, where and how, Amazon know everything 100% from their office. Who lodged into the server, what he did after log in and when he logged out, Amazon knows exactly. Every hidden or secret thing you do in those Servers, Amazon has all the clear records of everything from A to Z. All the Inec manipulations, wuruwuru and their fake stories, Amazon know everything.
Unfortunately for Inec, they only focused on the lies to tell Nigerians provided they justify the money they allegedly collected from sponsors, they never cared or bothered about the consequences. The after effect, they never cared to know. They believed that everything will always be business as usual and told those aggrieved to go to court.
Now, it happened that the Minister of Information, Mr Lai Mohammed shortly after Tinubu was declared winner travelled to USA and told the whole World that Hackers hacked into Inec Server and that was why the transmission of the Presidential results was halted. An indirect way of indicting AWS before the whole world. It didn't end there, Inec back home in Nigeria defended themselves by jettisoning the reason proffered by Lai Mohammed and said that they had "Technical Glitches" with their Servers on the election day and that was why the Presidential election results couldn't be uploaded at real time as they promised.
Peter Obi now Subpoenaed AWS to appear before the Court and testify how their Servers suddenly developed "Glitches" only at the very point of transmitting the Presidential elections. So with so much anger in them on the attempt of the Nigerian Government through Inec to tarnish their image worldwide, they appeared today with 33 Reports from 6 Regions of the world that they cover or host server services to prove to the whole world that there was nothing ever wrong with Inec Server before, during and after the election. To prove further that Inec officials purposely switched off or disconnected those Servers by themselves for reason best known to them not that the Servers had any issue as Inec deceitfully told Nigerians.
Both Inec and APC never saw it coming. They never believed Obi could go that far. As always, their only best defense for now is to always object and reject everything especially the one concerning the appearance and evidence of AWS today in court. Unfortunately to them as usual, AWS Official with her loads of evidences were admitted today in court despite objection objection flying everywhere. AWS appearance in Court today with their evidence is one of the highest expected evidence to nail Inec completely in this case. Obi has done his part in that regard. Left for the judges to decide at the end of the day.
Copied.