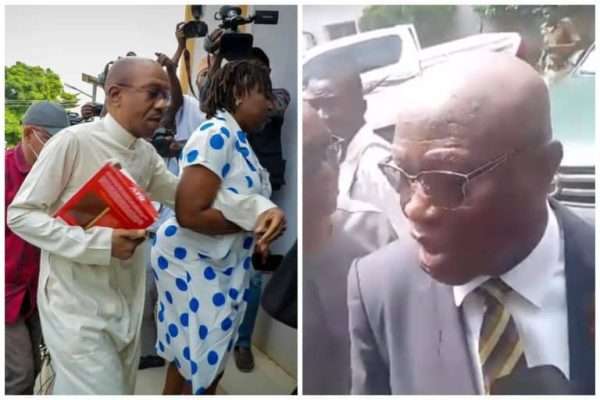 This Is Complete Disgrace- Emefiele Senior Reacts To Fight Between DSS & Prisons Officials
The Senior brother to the suspended Governor of the Central Bank of Nigeria (CBN), George Emefiele, has described Tuesday turnout of events in court as a complete disgrace over detained Godwin Emefiele.
Recall that Emefiele was charged with illegal possession of firearms and ammunition by the Federal Ministry of Justice. Emefiele, during the ruling on Tuesday, pleaded not guilty to the charges filed against him by the secret police.
The court granted him bail for N20 million. Following the ruling of the court, the counsel to Joseph Daudu had raised the fear that DSS had the intention of re-arresting his client.
Despite the court ruling, a struggle broke out between DSS operatives and prison officials over who will take Emefiele into custody.
Speaking with journalists after the re-arrest of the embattled suspended governor, George said his brother is not running away from Nigeria. According to him, for someone who has served Nigeria for nine years, he has no reason to run from the country.
He said, "It is unfortunate that this is happening in Nigeria, a democratic nation. A nation that is built with people of integrity. Here we are today; three courts have said release him on bail, he is not running away from Nigeria.
"He has served this nation for nine years, where is he going? All his life is in Nigeria here, and you can imagine a situation of two military apparatus are fighting themselves, manhandling a commander of the prison commission, it is a complete disgrace to this nation."