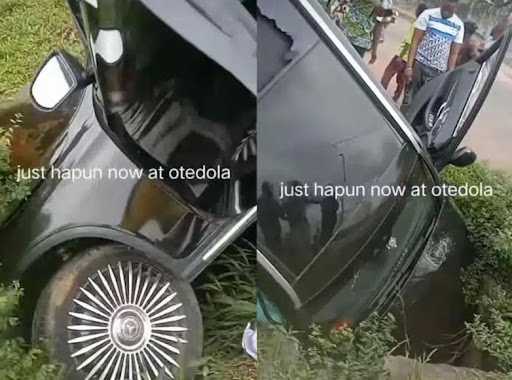 Wahala As Mechanic Crashed Brand New Mercedes Benz While Returning To Owner In Lagos
A Nigerian mechanic has landed in hot soup after he crashed a brand-new Mercedes Benz while delivering it to a customer who just bought it.
The hapless mechanic had completed the required fixing job on the car and sought to return it to its new owner after it was recently purchased from a dealer.
Unluckily for him, under yet-to-be-ascertained circumstances, the car fell into a drainage.
It was gathered from online reports that the incident happened around Otedola, Lagos state.
Viral video from the reports showcases the car in a bad shape following the accident.
Residents could be seen gathered around the crash after the driver was pulled out of the wreck.