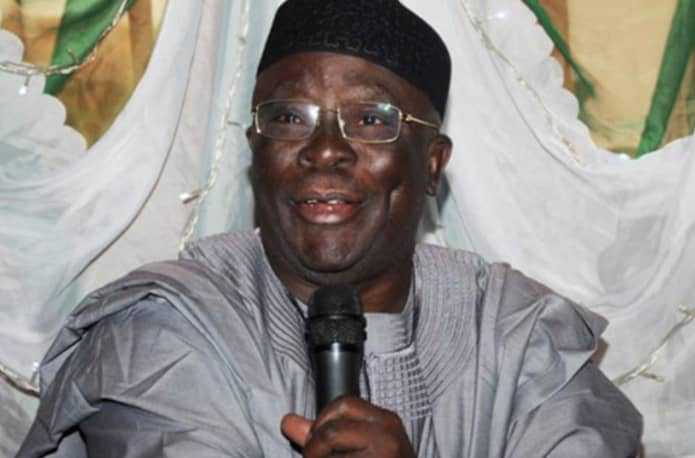 We Must All Prepare For 'War' Because Cabals Want Another Northerner To Succeed Buhari –Pa Adebanjo Tells Southern, Middle Belt Leaders
Nigerian elder statesman, Pa Ayo Adebanjo, has warned that power brokers are plotting another northerner to succeed President Muhammadu Buhari and hence, southerners must all "be prepared for a war."
The Southern and Middle Belt Leaders Forum (SMBLF) earlier endorsed the presidential candidate of the Labour Party, Peter Obi, for the forthcoming 2023 general elections, saying Nigeria's survival depends on him.
Speaking at the Forum's meeting on Thursday in Abuja, the leader of a Pan-Yoruba socio-cultural group, Afenifere, Adebanjo said electing the LP candidate will show that Nigeria values ethnic and religious inclusion.
Adebanjo said, "The battle is on. We are in a war and our opponents are not sleeping at all. They've underrated us in the past but they are now seeing the stuff we are made of now.
"They are making all sorts of devices to ensure that power remains in a particular part of the country. That's why they are not even supporting the candidate of their own party.
"You are fighting for your freedom. Don't joke with your freedom. Don't be deceived. They are not going to organise any election. We are fighting to get out of slavery and bondage.
"We are all living in denial, even among the Igbo. The impunity is too much and you don't want those who are dissatisfied to leave the country.
"Obi's phenomenon is not just about the Labour Party. LP is now like NADECO. Obi is leading the crusade to get us out of the bondage of serious oppression.
"They don't want to leave the office. I'm saying it openly here. It is not a joke that they want to scuttle the election. You must be prepared for the post-election.
"We will give it what it takes. It is either bend or break. If Obi does not win, forget a country called Nigeria. If we lose this election, there will be no opportunity for a non-Christian, a non-northerner to be president again.
"Right now they are planning to vote for Atiku Abubakar, the presidential candidate of the Peoples Democratic Party, by jettisoning their candidate in the Labour Party.
"They want another northerner to succeed President Muhammadu Buhari. How they want to do it, I don't know, but we must all be prepared for a war.
"Have it at the back of your mind that Obi must be declared president. Anything contrary to this, we should forget about Nigeria."