What Does 'Food" Mean To You? How To Re-discover Your Taste Buds Using Agroecology
Journalist In Rivers state have been urged to intensify media awareness on effects of genetically modified foods on our health and   reinvigorate our tastes buds by preserving our crop varieties  without the use of chemicals to grow them.
Environmental experts have noticed that over the years Our tongue has been captured by junk foods and fast food, if they don't put a lot of flavors, people don't like it."
The Executive director of HOMEF  Dr. Nnimmo Bassey gave the charge at a One Day Training for Media Professionals in port Harcourt with the theme: "My Food is African"  to create awareness on the effects/hazards in consuming genetically modified foods and the use of pesticides to grow our crops and also called on Nigeria government to look into agricultural sector.
He said  "The issue I will be addressing Here is that when we say 'Our food is African' that suggests that there is a challenge, if it wasn't a matter to be debated on, it will not even measure. So, it should be taken as a matter, of course, because many of the food we eat are beneficial, this is why we need to recover."
In his speech, he noted that for every region in the world, nature has provided the right crops that will help maintain the health of the people, their spirituality and culture and everything around them. this means we have to reject anything that erodes our food system including rejection of genetically modified varieties of crops which Nigeria is just approving left, right and center without caring about the implications to human life."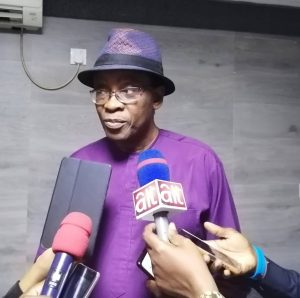 The director noted that when you have to depend on food that is brought elsewhere or food that is genetically engineered then you are exposing yourself to great risk, you lose the capacity to withstand the challenges of life in  health.
He said  "Food is not only meant for satisfaction but also a means of treatment to the human body.
"Many times we think food is neutral, just something you put in your belly and go off, but food is not, food is more than that, food is life, food is culture and the people's food system tells a lot about what the people are"
Without doubt, the decolonization of agriculture is the way towards the preservation of crop and animal varieties,
rebuilding our food systems, thereby, recovering our culture.
He continued  "A decolonized agriculture invests on support systems for farmers, by providing extension services and upgrading rural infrastructure, preserving local varieties, ensuring that farmers have access to land and funding research institutions to build a knowledge
base on healthy soils and resilient indigenous crops, elevating the precautionary principle in biosafety issues, and outlawing harmful pesticides.
Decolonizing our food system will liberate our tongues and bring back forgotten tastes. It is the way to revive our cultures
and bring back vibrancy into the lives of our rural communities. Species harmed by chemical inputs in industrial.
Agriculture would recover and play their roles in pollination, assuring farmers of bumper harvests and breaking the chains
of import dependence.
A decolonized food system uncovers  the falsehood of genetically engineered crops therefore the director urges the Nigeria government to look into agriculture sector by investing more in agriculture and supporting the farming system that it will help empower Nigerian economically and also help solve the problem of climate change by having an agriculture that depends on nature.