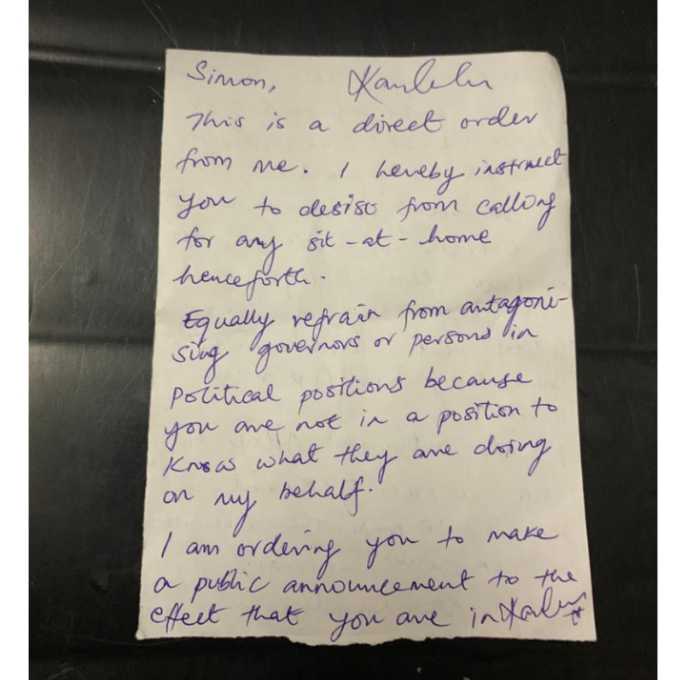 What Nnamdi Kalu's Family Said About The Hand Written Letter Stopping Sit-At-Home
Nnamdi Kanu's family has verified that the handwritten letter displayed by his Special Counsel, Aloy Ejimakor, which ended the sit-at-home in the southeast, was indeed written by Nnamdi Kanu.
However, the self-styled Prime Minister of Biafra, Simon Ekpa, has disclaimed the letter, stating that it did not originate from Kanu.
During a world press conference on Friday, Kanu's Special Counsel, Aloy Ejimakor, presented the letter written by Kanu to put an end to the sit-at-home protests in the region. However, Simon Ekpa, through his verified Twitter handle, dismissed the letter as a fake, emphasizing that he and other Biafrans would not take orders from the Islamic Department of State Services (DSS).
On the other hand, Kanu's younger brother, Prince Emma Kanu, has confirmed the authenticity of the letter, stating that he visited his brother at the DSS detention last week, and Nnamdi Kanu reiterated multiple times that he had indeed written the letter. Emma Kanu emphasized that Nnamdi Kanu is focused on the freedom of his people and is not interested in causing harm or suffering