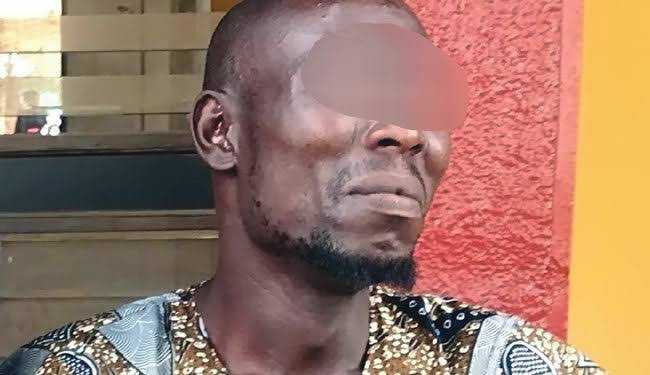 Widower Arrested For Defiling His 11 Years Old Biological Daughter
A middle-aged man, identified as Mr. Okpara, has been arrested for defiling and sleeping with his 11-year-old daughter in Anambra State.
According to reports, the incident happened at Fegge, Onitsha, where the suspect resides with his daughter. The suspect was said to be a native of Adazi-Enu in Anaocha Local Government Area of the State. Okpara's evil act was said to have been exposed by a good Samaritan who leaked the information that led to his arrest by operatives of the Anambra State Police Command, in collaboration with the State Ministry of Women Affairs and Social Welfare.
In an interview, the victim narrated how her Dad has been having carnal knowledge of her since 2020, shortly after her mother's death. She also narrated the ugly experiences of how her father would always force himself on her every night, despite her cries, pains and pleas, which he would always ignore in his search of pleasure.
She also attested to have sustained varied degrees of injuries on her legs and her genital organ as a result of that. The victim, who is currently limping, also revealed that her father threatened to kill her if she ever told anybody what she was passing through, which, she said, was the reason she kept quiet since 2020 and continued dying in pains and in silence.
According to her, the father also became overly protective of her by not allowing other family members, friends and relatives to come close, so that they won't find out what has been going on between them.
When interrogated, the suspect, Mr Okpara, denied all the allegation and claimed that her daughter fell down from refrigerator and broke her leg, which is the reason she is limping. However, medical reports from hospital confirmed that the 11-year-old girl was actually defiled.
It was gathered that the suspect is currently in the police custody and will be arraigned before the Children, Sexual and Gender-Based Violence Magistrate Court in Awka on Wednesday next week .
When contacted for her reaction, the Anambra State Commissioner for Women Affairs and Social Welfare, Mrs. Ify Obinabo, condemned the increase in the rate of child abuse in the society today restated the state government's resolve to continue wedging war against such senseless and inhumane acts in Anambra State. While noting that she immediately deployed her staff to the scene of the incident upon receiving the report; she also assured to follow up the matter to a legal end.