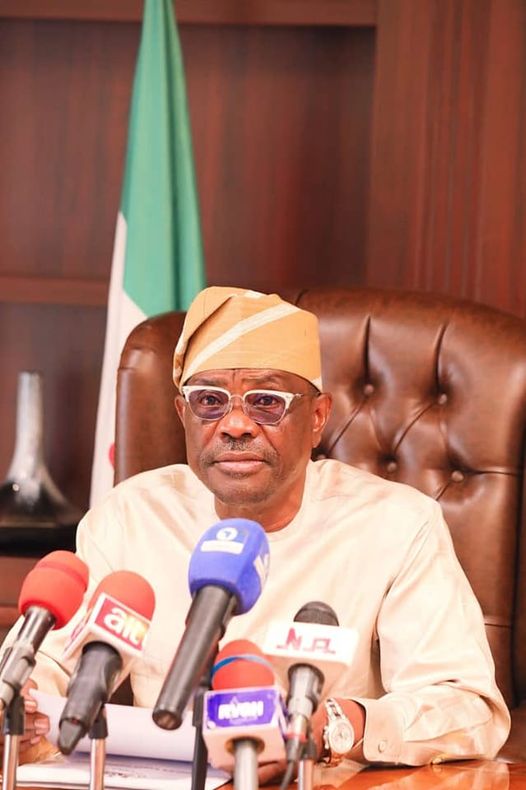 Wike Dispels Rumour-Reassures Rivers People Fubara Remains PDP Guber Candidate
Rivers state Governor, Nyesom Wike has dispelled the earlier Rumour that Sir Siminialayi Fubara, candidate of the Peoples Democratic Party (PDP) is no longer the candidate of the party in the state by reassuring the teeming supporters that the Supreme Court of Nigeria on Tuesday dismissed appeal brought before it by Hon. Farah Dagogo, with claims to be the gubernatorial candidate.
The Rivers State governor maintained that there is no disputation over the candidature of Sir Siminialayi Fubara as the authentic PDP gubernatorial candidate for Rivers State.
Governor Wike made this clarification at Ogu Mini Stadium, venue of the Rivers State PDP campaign flag-off rally for Ogu/Bolo Local Government Area on Tuesday.
The governor said he had to make the explanation because of the apprehension that some party members have expressed sequel to rumours that there was a plot to replace Fubara as gubernatorial candidate of the party in Rivers State.
He mocked plotters against the interest of the State, saying that he is always ahead of them and urged them to also return home to implement their plot.
"Supreme Court dismissed the appeal by Farah. I can tell you there is nothing we do not know about what they want to plot from the up. If you plot finish, come down and implement it."
The Rivers State governor also wondered the basis of the claim by Dr. Iyorchia Ayu, the national chairman of the PDP, who on Monday claimed that they are reaching out to the G-5 governors. According to him, Ayu lied when he also claimed that one of the G-5 governors visited him at his residence.
Governor Wike, who took exception to such blackmail, insisted that neither he or any G5 governor went to the residence of Dr. Ayu.
The Rivers State governor stated that they are who they are, and this is not the first time such insinuation has been made, but that the G-5 governors will win the battle in PDP at the end of the day.
"Nobody can blackmail us. We'll never go and meet anybody. We are who we are. This is not the first time we have battled. This battle we will win at the end of the day."
To governor Wike, he and his colleagues in the G-5 are determined not to allow any person to chase them away from a party that they have built.
"We have gone to court against them. We are not running away from them, all our candidates went to court, our party went to court. I went to court too. We'll stay here and we'll battle it. We are not going to run away from anybody.
"Are we going to run away from armed robbers? It's not possible. You can't chase us away from the house we built. Rather, we'll chase you out because you are used to running away."
Governor Wike announced that he has reapproved Adokiye Amiesimaka Stadium for the PDP presidential campaign to hold its rally on February 11, 2023.
"This morning after appeal from people who talked to me, I have given them back Adokiye Amiesimaka. Go and campaign. Let it not be that because they didn't campaign that is why they didn't win in Rivers State."
Campaigning for Sir Siminialayi Fubara, governor Wike said the consolidation team will continue with his development strides and consolidate on the gains made by him.
He informed that like other promises that he fulfilled, his administration has paid 50 percent for the Eteo-Ogu Road and awarded the contract for the construction of the Eli landing jetty, which were demands their leaders made when they met with him on 14th January 2023.
These, he noted, are in addition to other projects like Ogu sand filling project, Bolo-K-Dere link bridge, kpogo-Wakama Road, Bolo Internal Roads and the rebuilding of Government Secondary School, Ogu, which was demolished by former governor Chibuike Amaechi.
On his part, Rivers State governorship candidate of the PDP, Sir Siminialayi Fubara thanked the people for their massive turnout, which is a pointer of their support.
independent.ng