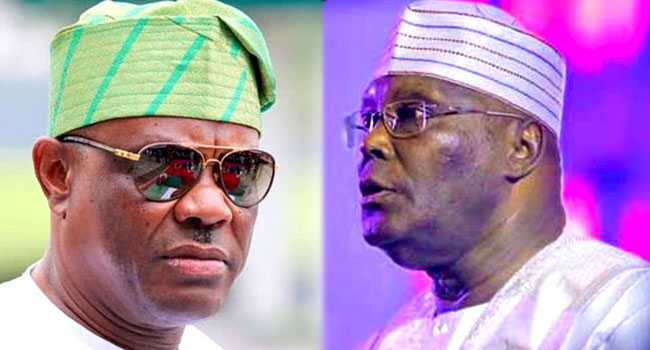 Wike Renews War Against Atiku's Men, Tackles PDP BoT "for Asking Samuel Anyanwu To Resign
The minister of Federal Capital Territory (FCT), Wike, has criticized the Board of Trustees (BoT) of the Peoples Democratic Party (PDP) for asking Samuel Anyanwu to resign as the party's national secretary.
Wike, in a letter to Adolphus Wabara, acting chair of the BoT, said the BoT does not have the authority to declare who can occupy the office of national secretary of the party.  He also expressed dismay that Wabara referred to Emeka Ihedioha as "former governor of Imo state" in his letter to Iliya Damagun, acting chair of the PDP. "Your Excellency, permit me to observe with respect that the Board of Trustees (BOT) lack the moral authority to intervene on the issue of who occupies or should occupy the Office of the National Secretary of the Party," Wike wrote. "This is more so as the BOT was unable to use its good offices as the conscience of the Party to intervene in the crises that engulfed the Party in the run-up to the 2023 General Elections when Officers of the party blatantly violated the Constitution of the Party.
"Secondly, the Ag. Chairman of the BoT is reminded that the issue of who occupies the position of National Secretary of the Party is beyond the BOT's sphere of authority and influence. Wike vows to remain in PDP, declares support for Saraki as… Oct 16, 2023 Details of Wike and Saraki's home visit emerges Oct 14, 2023 "Indeed, if and when a vacancy occurs, the responsibility of deciding who and how the vacancy will be filled is that of the entire Southern States to which the position was zoned and not only the South East geopolitical, as your letter under reference appears to be suggesting." Wike also said the letter to Damagun should not be copied to Ihedioha as the former governor of Imo state because the supreme court had nullified his election.
"By the Supreme Court's pronouncement, Hon. Emeka Ihedioha was never elected Governor of Imo State and ought not to have been so copied," Wike said. "To do otherwise will amount to dressing him in borrowed robes, which will not do him and the Party any good." Anyanwu, in April, became the PDP gubernatorial candidate for the forthcoming election in Imo scheduled for November 11.  He hopes to unseat Hope Uzodimma, who is seeking a second term in office.