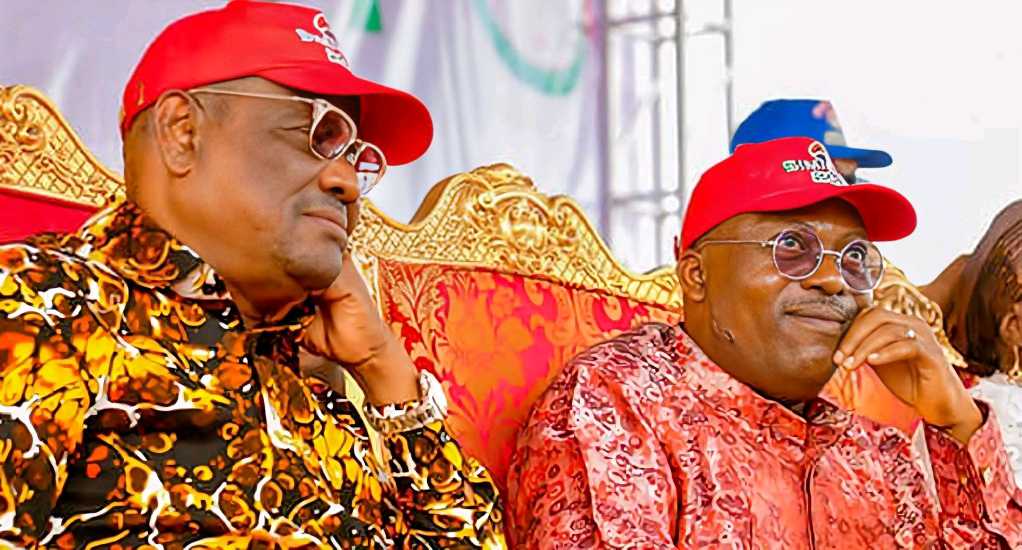 Wike To Lawmakers: If You Like Perform, If You Like Fail But Don't Touch Structure I Built Since 2015
Minister of the Federal Capital Territory, Nyesom Wike, has again insisted that he is not interested in tele-guiding governance affairs in his home state, Rivers, declaring that as Minister, he is contented with his current position.
Wike made the declaration on Thursday when he received the Rivers state Caucus of the 10th National Assembly.
The caucus, led by Senator Barinada Mpigi, representing Rivers South-East Senatorial District, and Minority Leader of the House of Representatives, Kingsley Chinda, representing Obio/Akpor Federal Constituency used the opportunity to declare support for the minister.
There had been allegations by some partisans that Wike was working to oust his governor, Siminalayi Fubara, using the State Assembly.
Speaking at the meeting, Wike said; "You that we have given this opportunity to, don't go and disappoint your state. Don't go and disappoint your state. When you make mistakes, we will call you that you are making a mistake, take it in good faith that we are calling your attention because we think that you are derailing. When we call you, don't say we are expecting a kickback from you of 25%, or so and so per cent.
"I thought that all of us are one. We have built this political structure for a long. Since 2015 we have emerged victorious. As the opposition party from 2015, I saw hell. The Federal Government fought me left right and center, but with your support, we survived. When you work as a team, you will discover that it is difficult for an outsider to defeat you at home
"I am not interested in the governance of Rivers State. I am not interested. I am here sitting as a governor, (with) all the functions I have. But I am interested in the political structure of Rivers State which we have built for years.
"If anybody dares to bring it down, the person will face the crisis he wants in his life. Perform or don't perform, but don't touch our political structure. Anybody who puts his hand in our structure, anything you see, take it", he said.
Earlier, Hon Chinda, who spoke on behalf of the group, said the purpose of the visit, was to show solidarity with the Minister and to thank him for his support during the elections.
He said the Minister's appointment was well deserved, adding that Wike was "the important factor" responsible for their seats in the National Assembly.
"We thank you for your invaluable support for all of us. You supported us all through the primaries. You are the reason why we are in the National Assembly today."
Commending Wike, they noted that in barely three months, Wike has changed the face of the FCT for his performance, just the way he did in Rivers State.
They also condemned the political crisis in the state and declared their total support for Wike.
Members of the caucus who visited Wike were all three senators from Rivers State and 11 House of Representatives members. They are Senator Barinada Mingi, Sen. Ipalibo Harry Banigo who was deputy governor to Wike when he was governor and Sen. Allwell Onyeso.
The Rep members in attendance were: Honey. Felix Nwike, Hon. Boniface Emerungwa, Blessing Emezureke, Victor Onozor, Dun Deakor, Solomon Bob, Kelechi Nworgu, Kingsley China, Hart Cyril Goodwill and Allison Anderson.