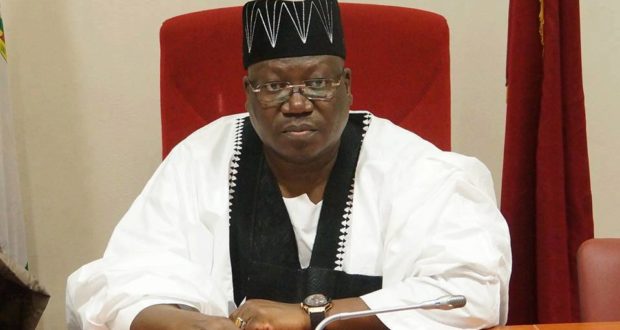 Yobe Northern Senatorial Zone: To Save Our Democracy, Ahmed Lawan Must Go
It is not a constitutional crisis, it's a constitutional bastardization and devaluation of our democracy if we can all recall how Ahmed Lawal, the 14th President of the Nigerian Senate. A forefront runner of the All Progressives Congress (APC) Presidential Aspirant who participated in the party's primaries and loss.
Ahmad Ibrahim Lawan, GCON has been in the National Assembly representing
Bade/Jakusko Federal Constituency of Yobe State and Yobe North Senatorial District from 2019 to 2023 respectively. You can call him the National Assembly Landlord with wider experience, you are truly not far-fetched from the truth. Teacher (Professor ) as his background, this made him more knowledgeable about the constitution of Nigeria and what is the right thing to be done as a respected and distinguished Nigerian Senate President.
What others described as "greed" and "hungry for power " with dispassionate, and inordinate excessive want to remain in the corridor of power. If the court can rule that Bashir Machina is the authentic candidate of the APC party after primaries good Nigerians will wonder how comes Lawan is currently representing the Yobe North Senatorial District. Machina having won the legally recognized primary supervised by the Independent National Electoral Commission (INEC) is now a victim of political rascality by those we all trust with the power to serve the generality of Nigerians.
The Judgment of the Federal High Court in Damaturu, Yobe beat my imagination despite the court's rejection of Lawan and gave INEC the interim order to list Machina as the APC candidate, by that ruling, Mr. Lawan will not hold an elective position for the first time since 1999. But the reverse is the case we are seeing today. Lawan would have seized to be a Senator since February. The ruling categorically stated that the former Senate President is not the candidate of the ruling All Progressives Congress (APC) for Yobe North Senatorial District.
The court ruled that;" Mr. Lawan did not participate in the legally recognized primary election of the APC to select its candidate in the election held on 28 May. "
Nigerians all know that Professor Lawal did not participate in the original APC Yobe North primary because he was contesting to be the party's presidential candidate. What we are seeing today between Lawan and Machina is one of the "Just imagine "dramas of the Nigerian corruption system in the Judiciary, in APC as a party, and the kind of leaders who turned to be desperate politicians adamant to remain in power to enslave us all? May be yes. They appeared to be wanton wealth seekers, enmeshing money in Billions that even their forth generation will not finish it at the detriment of Nigerians suffering in poverty and going through excruciating pains caused by bad leaders.
The person of Ahmed Lawan in a decent country with a normal system will not be proud of taking the back seat after a loss in power tussles of primary election of APC. But his desperation to remain in power is what is making some patriotic Nigerians ask questions about whether the behavior of the ex-Senate President befits him as a distinguished fellow of the federal republic of Nigeria.
To many concerned Nigerians, Lawan is a democratic loser who succeeded in disgracing the country and bastardizing the constitution of the Nigerian federation, yes he disgraced us all. I don't think posterity will ever be kind to him and his generation. He plundered the country's corporate image in a further legislative indecent record.
The Question on the lips of people is "How comes he made it back to Senate chambers as a floor member? It is a wonderful question that needs a genuine response. This can only be answered by him, INEC, the judiciary system, and the APC party. They were all partners and stakeholders to the so called impunity against our democracy norms.
The professor turned politician is no doubt one of the few privileged Nigerians who have seen it all in managing the affairs of the nation as a leader in the red chambers. He always propagated the gospel of a decent Nigeria. But he left us all in shock, shocking the whole world that by breaking the law and maneuvered his way back to the national assembly after a defeat of the APC presidential primaries.
Sir, how did it happen? How did you make it thus far? Nigerians need the truth from you. I'm sure you worked it out through the instrumentality of our corrupt judiciary system, today your nominal seat at the red chambers of the national assembly is without gain saying you merited it through illegal means and bad party's (APC) internal democracy.
May I say it in clear terms, Nigerians are no longer proud of you. Since you could not honorably take the simple bow in humility that it is time for you to be an elder statesman in Yobe. A state in dire need of good leaders to guide it to the prosperity of her citizens wallowing in abject poverty and scourge of insecurity.
If I may ask you again, what are you still doing there? You shamelessly took the oath of continuity as a Senator. Is your conscience not policing you to condemnation? Common my Boss leader, it's high time you display to Nigerians that you were a president of the senate with a difference because our laws forbid you to be there. After all, it was crooked out to favor you because of our bastardized Democracy and our shabby way of practicing it.
Former Senate president Sir, may I remind you that Kama is a bitch, is watching, it will not let you go free. This is my advice:
Leave that seat you currently occupied in the national assembly, it is not your own. It is for the deserved one our laws have made for. You illegally owned it and is speaking badly of you and bringing shame to our nation.
Are our morals so eroded that even issues of national interest are being played at the gallery? We have all failed if people like Lawan that suppose to be leaders of thought and role models to the younger generation are allow to messed up the system this way and manner. Nigeria is not Banana Republic, we still have morals that guide our conscience. We are not a pariah state that we can still allow the corruption of this magnitude to clamp down on our constitution and make a mockery of our nascent democracy. If no one will say this, I will loudly say it all Mr. Former Senate President Sir, take the path of honor and create a new new in your label. Bow out in in peace, in honor and glory. God will honor you and the world will honor you too. You can please learn from Goodluck Ebele Jonathan, is one of my best examples, and remind you he had the best opportunity than yours to continue in power but he said no and allow President Muhammadu Buhari to take over. Today he is one of the world's most respected former presidents. I'm sure you know this.
Sir, you must go, your action of leaving suggest to the world that you are a patriotic Nigerian take it with pride of the good Nigerian we desire to see in you. You must go to save our Democracy and tell the world that we have a consolidated constitution. By that honorable action of yours, the world will realize that Nigeria is growing, and is picking up her ruins and pieces of bad leadership built over the past by past leaders who moved the country toward destruction than nation-building to a promising land of hope and peace in development. I come in Peace.
By Tom Garba FIMC, FBDFM, SPSP
Is a Journalist, a political analyst, and a patriotic Nigerian who wrote this article from Garun-Kurama, Lere LGA-Saminaka, Kaduna State.
He can be reached through these means:
tomgarba5@gmail.com
08172570959