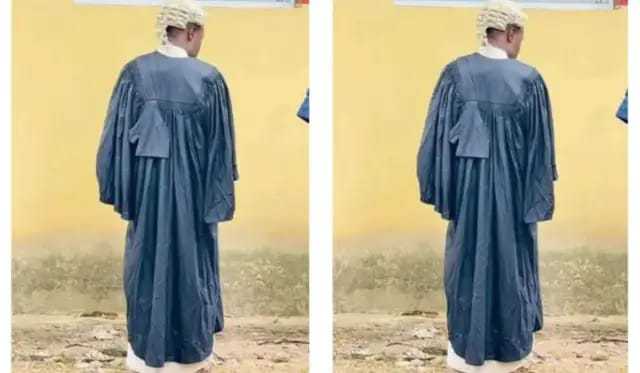 25-Year-Old Fake Lawyer Arrested By NSCDC, Blames His Father For Pushing Him Into Swindling
The Osun State Command of the Nigeria Security and Civil Defence Corps (NSCDC) has arrested a 25-year-old man, Ayanrinde Abdulgafar, who has been parading himself as a lawyer and swindling unsuspecting members of the public.
Parading the suspect at the Command's headquarters, Oke Ayepe, Osogbo, on Saturday, May 27, 2023, the state Commandant, Agboola Sunday, said Ayarinde, who always putting on legal regalia, allegedly defrauded POS agents inside court premises in different states. Adigun noted that the suspect perpetrated the act at the Federal High Court, Akure and State High Courts in Osogbo and Ilorin. He said the suspect was arrested in a hotel on Thursday, May 25, 2023, in Ilorin, Kwara State by the Command crack team in collaboration with Kwara State NSCDC command.
"The suspect presented himself as a Barrister of law to one driver on the 23rd May, 2023 whose service he requested to drive him first to State High Court Osogbo before heading to Federal High Court, Akure," the Commandant said. "The suspect in his full regalia entered the court, exchange pleasantries with lawyers and thereafter approached a POS woman around the court premises and collected the sum of One hundred and fifty thousand naira with the aim to do the transfer. "He had collected the phone of the driver to share his internet facility to help him transfer the money. He entered the court premises and disappeared into the thin air, only to be tracked to Ilorin, Kwara State. "The suspected fake lawyer defrauded another driver who took him to Ilorin to the sum of N100,000, after which he was arrested," he added.
Speaking with newsmen, the suspect claimed he is a University of Ibadan Law Faculty dropout.
Ayanrinde said he started duping people early this year, adding that he had collected over N200,000 from his victims.
When asked what led him to the act, Ayanrinde said he did it to get back at his father who abandoned him since childhood. "I dropped out of the University of Ibadan (UI) from the law department in 2022 when I could no longer pay school fees," he said.
"I decided to start practicing as a fake lawyer to swindle people in courts because my father who is a Senior Advocate of Nigeria (SAN) decided to neglect myself and my mother after he impregnated her.
"I do this crime to spite him. I regret my action, my father is the one that destroys my life. He denied me as his son and never took responsibility for me."