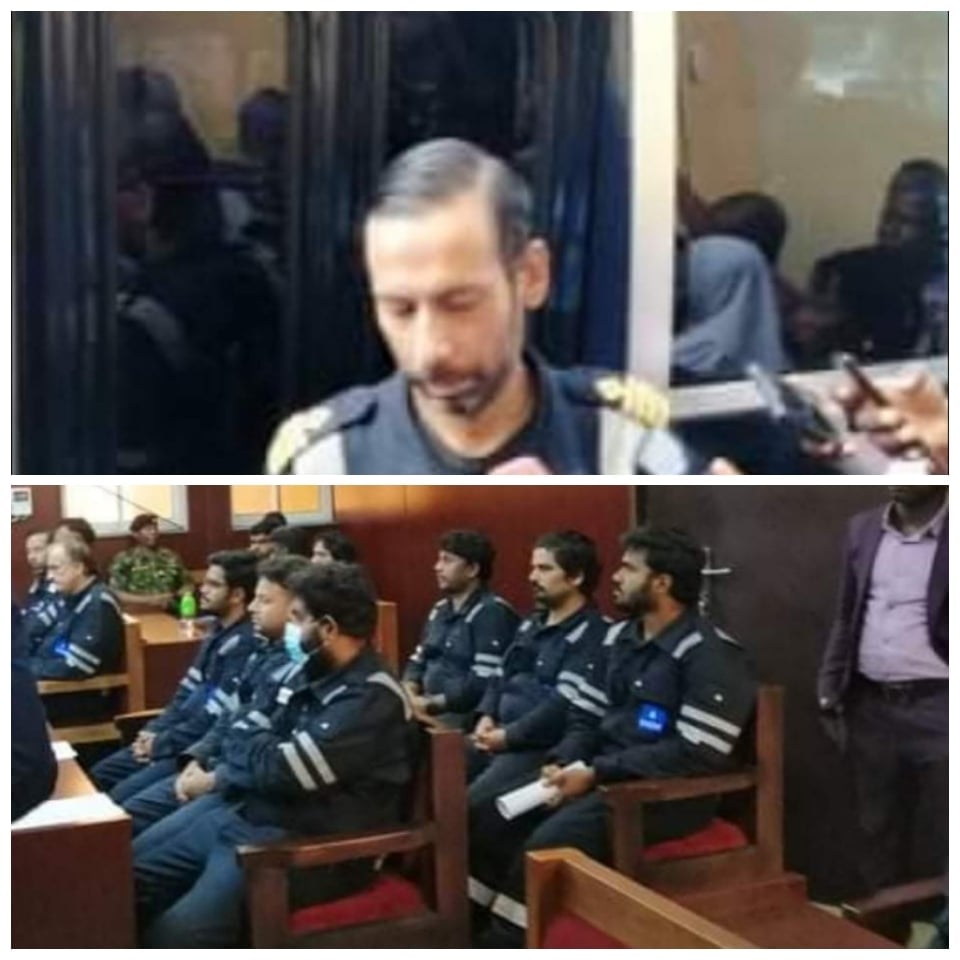 26 Foreigners Arrested By Nigerian Navy Over Unlawful Entrance/Piracy, Pleads Not Guilty, Trial Date Sets For Jan 10 &11th 2023
A Federal Federal High Court sitting in Port Harcourt has set January 10th and 11TH 2023 to commence trail of  the 26 Foreigners arraigned by Federal  Government on 3 count charges.
The FG arraigned the crew members and its Crude Carrier, MT HEROIC IDUM on three count charges, bordering on Unlawful entrance into Akpo Oil field, raising false piracy alarm to avoid arrest and an attempt to lift Crude oil without clearance.
The 26 all male crew members were arraigned before Justice Turaki Mohammed following the dogged operation by Nigerian Navy which saw the runaway vessel with capacity of three million liters brought back alongside the crew from Equatorial Guinea.
When the case was called on Monday 14th November 2022, The prosecuting Counsel, Assistant Chief State Counsel, Abidemi Adewumi-Aluko said that it was not possible to produce all the twenty Six (26) defendants in court at the same day and asked that sixteen of them Present on Monday the 14th take their plea while the rest crew members the remaining 10 persons would appear on Tuesday 15th 2022 to take their own plea as the ship cannot be left unmanned
Counsel to defendants Udoka Ezeobi, pleaded that the crew members be allowed access to medical needs while been detained on board the ship and also be allowed access to their lawyers.
The presiding judge, Justice Turaki Mohammed after listening to the counsels, ruled that the defendants both the 16th on Monday and the remaining 10 on Tuesday 15th Nov be remanded in the vessel and adjourned commencement of trail to January, 10th and 11th 2023
Earlier on on Monday speaking to newsmen before the trail began on Monday the 14rh of Nov.  Captain of the vessel, Mr. Danuj Meheta denied that they were in the oil field to steal any oil. Mr. Meheta who is an Indian claimed that there was a mix-up in their documentation in entering the Nigerian Territorial waterways and the moment they were accosted they immediately return   to Equatorial Guinea where the Nigerian Navy came to seek their return to Nigeria waters
When our correspondent Anita Ogona accosted the defendants Lawyer Outside the courtroom on Tuesday, he declined to speak further on the matter but hinted that necessary documents will be presented when the trail begins in January