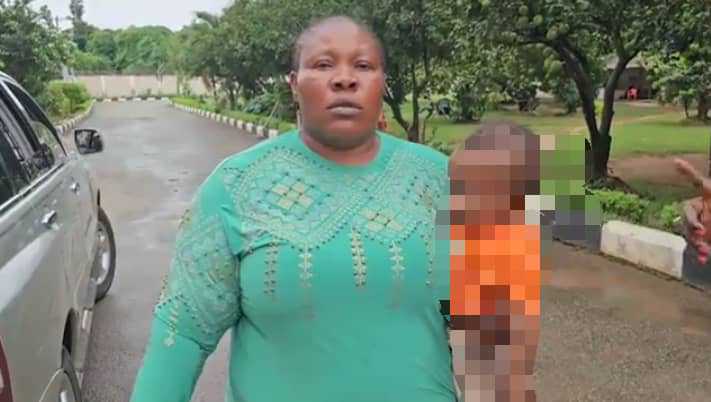 After One Week Of Hiding: Police Captures Nwaanyi Ukwu Venza , Owner Of Brothel Allegedly Used For Child Trafficking
Barely one week after after bursting a child trafficking brothel in Oba, Idemili South Local Government Area of Anambra State, the State Government and security agencies have finally captured the owner of the brothel.
Popularly known as Nwaanyị Ukwu Venza, the Nnewi-born suspected trafficker, whose real name is Ekpereamaka Okonkwo, was said to have escaped, while many of her staff also deserted the premises the day government and security agencies stormed the brothel, following a tip of information from a whistleblower. She had, therefore, remained on the run since then till she was eventually captured through the joint efforts of the State Ministry of Women Affairs and Social Welfare and the security agencies.
It was gathered that the suspect was captured while she was trying to bribe the Commissioner for Women Affairs and Social Welfare, Mrs Ify Obinabo, so as to "water the ground" to resolve the matter.
Narrating how she was apprehended, the Public Relations Officer of the Ministry, Chidinma Ikeanyionwu said the Commissioner succeeded in smartly luring the suspect to an undisclosed location in the state.
She explained that after the failed attempt to apprehend the suspect she eventually contacted the Commissioner for settlement of the case and possibly bribing her way through with the sum of two million naira (₦2,000,000).
According to the PRO, the suspect sent her husband to tip-off the Commissioner with the sum of three hundred thousand naira (₦300,000) to complete it two million naira in Asaba, Delta State; but the Commissioner persisted that she wanted to see her before any further discussion on the settlement. And they therefore scheduled for where and when to meet.
This, the PRO said, was how the Commissioner was able to lure her to an undisclosed location, with security operatives already on ground to arrest her.
Speaking on the development, the Commissioner, Hon. Obinabo restated the state government's resolve to end all forms of child trafficking and sexual slavery in the State. She further warned hotel owners to desist from defiling using underage girls to run their hotel businesses or be prepared to face the full weight of the law.
When interrogated, the suspect who was visibly marveled at how she was arrested, confessed to the crime, and pleaded to be forgiven.
By Izunna Okafor, Awka 247ureports