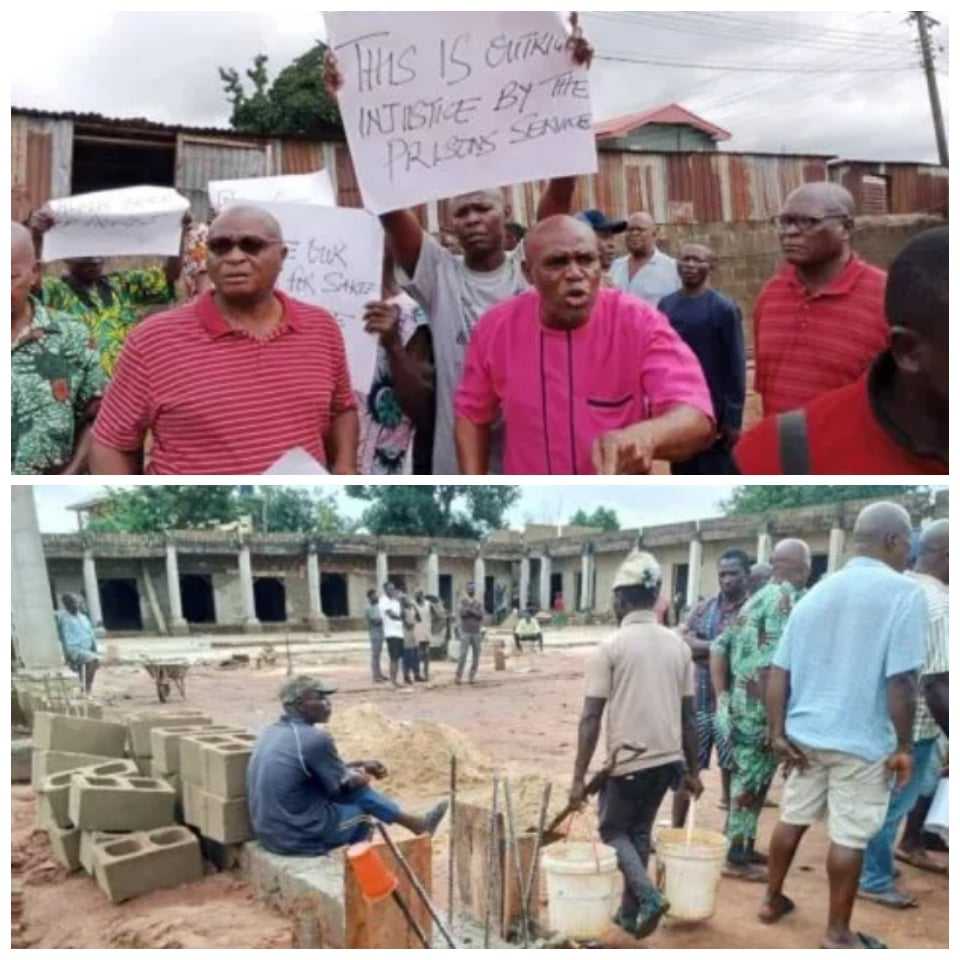 Anambra Community Protest As 'Nigerian Prisons' Builds Shopping Mall On Their Land without Authorization
The people of Amawbia community in Awka South Local Government Area of Anambra State have vehemently rejected and protested against what they described as 'land grabbing' and 'land misuse' by the authorities of the Nigerian Correctional Service in the State.
The community members expressed their grievances on Saturday while protesting at the site where the Nigerian Correctional Service (formerly known as the Nigerian Prisons Service) is currently erecting a magnificent shopping mall on the land donated to them for prison-related projects and use. It was gathered that the very parcel of land, located at the number 18 Zik's Avenue in Amawbia and other close lands, were donated to the Prisons by the magnanimous forefathers of the Okpannebochime Kindred of Ngene village, Amawbia, purely for administrative purposes. The community members, were, however, worried and unhappy about the manner in which, they said, the Prisons authorities have started using the lands for commercial purposes, against the original purpose for which their forefathers donated the land to them.
who toured round some portions of the land, observed that some shops were already situated thereon, while work is fast ongoing on a portion of the land, where the Prisons Service is purportedly constructing a magnificent shopping mall.
This reporter also saw a signpost at the site, which reads "Nigerian Prisons Service, Anambra State Command, Prisons Officers' Wives Association (PROWA) Shopping Complex". Masons and other workers were also seen at the site, doing their works before the protesters arrived.
The protesters, who were all males, held placards with different inscriptions, such as "We Want Our Land Back", "Okpannebochime Land Is Not for Sale, It Was Not Sold", "We Will Not Allow Abuse of Privilege", "This Is Outright Injustice by Prisons Service", "Okpannebochime Are the Owners of the Land", "Leave Our Land for Sake of Peace", among others.
Addressing newsmen during the protest at the site of the said shopping mall, the Chairman, Okpannebochime Kindred and Deputy President-General of Amawbia Town Union, Amb. Nnamdi Gabriel Onwuziligbo, said it was disheartening for the Prisons authorities to abandon the purpose for which a land was freely given to them and start using it for another purpose without the knowledge or authorization of the people who ceded the land to them.
According to him, the community had earlier written a petition against the construction of the shopping mall sometime ago when the work first started; which, he said, made the people to suspend the project. He, however, expressed worry that the people had come back to continue work at the site again, now with great speed to meet up with the deadline they had set for commissioning of the project.He said, "And the most appalling thing is that we heard that there is a private financier, by the name Pipeline, partnering with the Prisons to build the shopping mall. We heard he's the one sponsoring and championing this cause. So, you can see it is more like a private project.
"We also know the value of money. We know the project we can site here. And we know we can also work in conjunction with conglomerate companies to establish even ShopRite here. But that was not the reason our forefathers gave the land to Prisons. But, as you can see, they have shifted and diverted the purpose to commercial by embarking on building shopping complex and other commercial ventures on our land without any consultation or authorization."
The Kindred Chairman, who said it would have been a different thing if the Prisons authorities had used the land to build schools or hospitals, also alleged that the Prisons authorities also rented out and leased out some portions of the land to people for commercial purposes.
"We are notifying them that the purpose of giving them this place is for administrative purposes. And it should be for overriding interests of the public; not for their own selfish interests. The commercial purpose in which they are embarking on is not for overriding interests," he said.
When asked the demand of the village, Amb. Onwuziligbo who ordered an immediate stoppage of work at the site, said the Prisons authorities should come for roundtable dialogue.
"We are not here for violence," he said, "let them come so that we can have a roundtable dialogue."
On his own part, the Land Committee Chairman, Amawbia Town Union, Mr. Ifeanyi Muogonu said he had never seen Prisons build a shopping mall or engage in ownership and operation of a business enterprise; and therefore, asked the Prisons authorities to leave their land for them.
His words: "We know what prisons do. We understand that they can build houses, they can build mini-schools for the children and families of the warders. But I've never seen where prisons can decide to build a shopping mall.
"This is outside the scope of the agreement. When government takes somebody's land, it must be for overwhelming public purpose. But we know that this is a private business arrangement, and we are against it totally. We warned them, we told them we came here peacefully, we didn't come with any gun.
"Even our women wanted to join us, but we said no. We don't want our women to come because if they come, they might be more violent than the men. We are here for peace. We are asking the Prisons Comptroller to get out of this land. He has no business… His job is to manage the prisons, the welfare of the prisons and everybody.
"Prisons has no business building a shopping mall on ancestral home of Amawbia people. We want them out. We are not negotiating anything. We want them to get the hell out of our land so that the town can get the land back, look for the appropriate owners and give them back their land.
"What they are building here, if you can take a picture, is a travesty. We are totally against it. The only reason why they are still working is because of the nature of Amawbia people. From time immemorial, we've been a peace-loving people.
"But we should not be pushed to the wall. We want them, we have said it, we want them to get the hell out of this land. Prisons don't build shopping malls. Prisons don't engage in enterprise. This is an enterprise, a private enterprise. And we are against it and we've had enough. We want them to come, go to the PG, and get this land back to the people that own it. "Continuing, he said, "The PG will cover the family and the land and give them back. That's the way we've been doing. So that is what we are begging now, that's why we came here today. We are begging them, pleading with them, the Comptroller of Prisons, with all due respect. We are respecting him, that's why we came peacefully. We are not happy with what is going on here.
"This is a land, look at the one there, that is for Prisons. We've been very generous with our land, but we are saying that our population is exploding and we don't have anywhere to live, we don't have homestead, we don't have more piece of land. And we cannot stand and see people building a multi-billion Naira complex on our land. "From what is very obvious, they don't have need for this land anymore. Go down there, you see they are building a school, you can see they are building homes, we don't have issue with that. It's still part of the welfare of the prison workers, prison staffs. But let me ask you, what has a magnificent enterprise like this, a shopping mall, got to do with prisons?
"You can look, take a look, take a look, look at this, take a look, these are new walls. So we want them to stop and see our PG by 12 noon on Monday, so that they can discuss respectfully at that very, very high level. When they come there, they will see the PG…"
Responding, the officer supervising the project, Engr. Valentine Chukwuma, Assistant Superintendent of Corrections (ASP) in charge of Works Office at the Nigeria Correctional Service, Anambra State Command, said he had received the message of the protesters and promised to convey same to his principal, the State Comptroller of Corrections. report By, Izunna Okafor,  (Oyokomita.com)