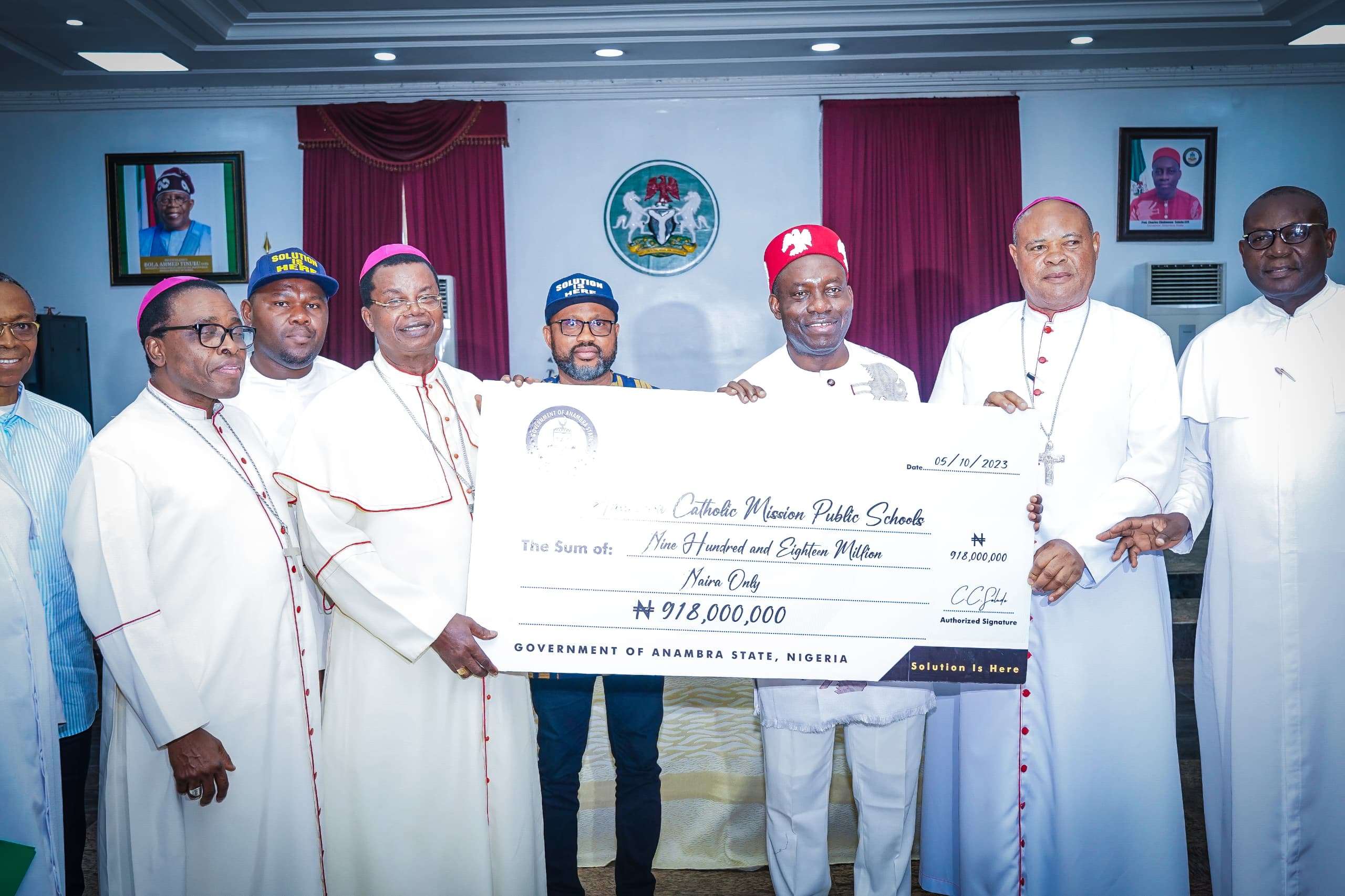 Anmabra Govt Supports Mission Schools With 1.524billions To Improve Educational Infrastructure
Anambra State Governor, Professor Chukwuma Charles Soludo, presented Cheques worth N1.524 billion to mission schools in the state as government support to improve quality of education and infrastructure.
Governor Soludo presented the Cheques to owners/operators of Anambra Mission Schools during a meeting held at Government Lodge, Amawbia.
A total of 762 Anambra Mission Schools received N2,000,000 each from the government of Anambra State.
Eight (8) schools returned to Salvation Army Schools received a total sum of N16,000,000.
Two hundred and seventy-five (275) schools returned to Anambra Anglican Mission Public Schools received a total sum of N550,000,000, while four hundred and fifty-nine (459) schools returned to Anambra Catholic Mission Public Schools received a total sum of N918,000,000.
Twenty (20) schools initially owned by Anambra Pentecostal Schools received a total sum of N40,000,000.
In a remark, the governor said that the education sector is one large sector, for which his administration has a large agenda.
He applauded owners of mission schools for their active participation in the health sector, of which most hospitals belong and decried the state of public sector components in the area of education and health.
Governor Soludo noted that both sectors are fundamentally slacking backwards and that part of his agenda is to restore them, which is part of the primary duty of government anywhere in the world.
The governor recalled that when he assumed office, no general hospitals had doctors.
He however, assured that all general hospitals will be equipped with solar power so that ndi Anambra can have access to a qualitative healthcare system and educational system, especially the poorest of the poor.
The Governor disclosed that hundreds of quack hospitals are in operation and reiterated his commitment to clean up the sector and make it work.
"In the area of education, this is why we are here and what we are trying to achieve on education is also the same we want to achieve in the public health sector," Governor Soludo said.
He expressed displeasure that the society is creating two sets of citizens; the children of the poor abandoned in public schools and the children of the rich/average who can afford missions or private schools.
He maintained his vision is to develop human capital in the state that will be productive at home and exportable abroad as well as to refurbish and recreate schools that will be smart, digital inclined. He also disclosed his plans to commence Leadership Science and Technology Schools.
"We shall be encouraging ndi Anambra to adopt schools in their communities but even if you can't, you can at least buy a pencil for a child. You will be amazed at what difference you can make. Club of Patrons will be formed in these public schools. We want communities to take ownership of these schools," he said.
Governor Soludo appreciated operators of Mission schools for their efforts over the years and what they will continue to do, describing them as almost being a substitute for the government.
In a vote of thanks, the Chairman of PFN, Anambra State Chapter, Bishop Moses Ezedebego on behalf of all Anambra Mission Schools said that the Governor has demonstrated leadership, showing that all religious denominations can work together as a family.
Bishop Ezedebego stressed that the Governor has wiped the tears of uncountable millions of poor ndi Anambra and his deeds today will remain indelible in the annals of the State history
The Deputy Governor, Dr Onyekachukwu Ibezim joined the Governor at the event.
The Secretary to the State Government, Prof. Solo Chukwulobelu, Chief of Staff, Mr. Ernest Ezeajughi, Bishop Awka Diocese and Archbishop of the Niger Province, Most Rev. Alexander Ibezim, the Catholic Bishop of Awka, Most Rev. Paulinus Ezeokafor, Catholic Bishop of Nnewi, Most Jonas-Benson Okoye, Bishops among others attended the meeting which featured a debrief by the Commissioner for Health on the health sector.
By Christian ABURIME