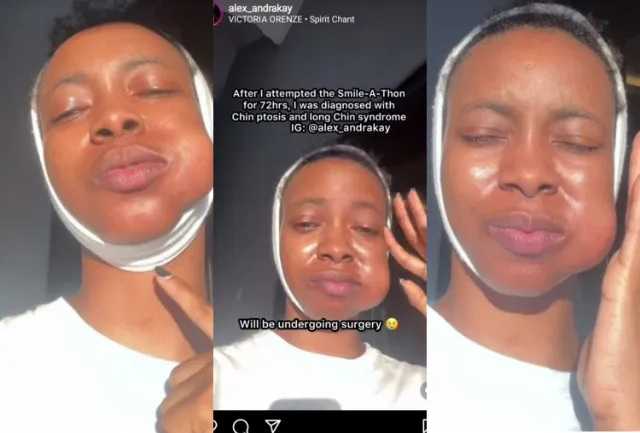 Another GWR Gone Wrong: Nigerian Lady Diagnosed With Long Chin Syndrome After Completing 72-Hour Smile-A-Thon
Alex Sandra, a Nigerian lady, has made a sensation online after participating in the Guinness World Record 72-hour smile-a-thon and disclosing her diagnosis of "long chin syndrome. "Sandra, who revealed her story in a video on her Instagram page, stated that after the attempt, her doctor notified her of the diagnosis, which also included 'chin ptosis'.
She plans to have minor surgery to address the problem, as the effort of maintaining a lengthy smile during the attempt appears to have caused the damage.
The young lady finished her challenge a few days ago, but the international record body has yet to officially recognize or endorse her accomplishment. On July 16, 2023, Sandra embarked on 72-hour smile-a-thon with the goal of breaking the Guinness World Record for longest time smiling.
According to reports, she successfully accomplished the challenge on July 19, 2023.
Brazilian lady, Mariana Costa, currently holds the longest time smiling record for two hours, two minutes, 4.00 seconds. Meanwhile, the record body recently released a PSA calling on Nigerians to go easy on the record-breaking attempts after being overwhelmed with many applications.
In a chit-chat with Legit NG, the record body said:
"The attention and excitement that Hilda Baci's cooking marathon gained was certainly an incentive for many Nigerians to consider attempting a Guinness World Records title. "Since Hilda Baci record attempt, there has been a spike in applications from Nigeria, particularly for marathon records.
"We have received over 1,500 record applications from Nigeria since the start of May."
Nigerian girl ignores GWR plea, begins a 72 hours smile-a-thon