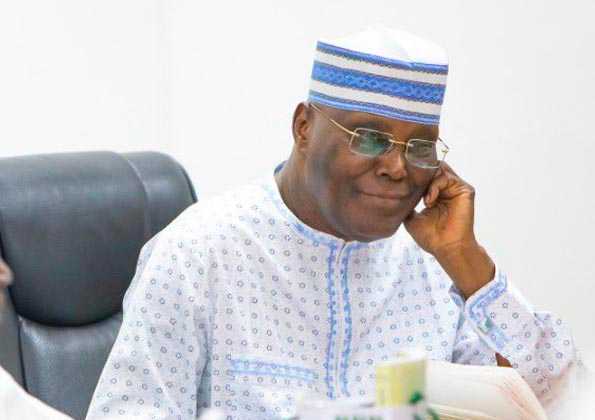 Atiku Drags Tinubu To US Higher Court, Seeks Release Of Tinubu's Academic Records
the Presidential candidate of Peoples Democratic Party (PDP) in the February 25 election, Atiku Abubakar, After withdrawing the case from a lower court, has filed a separate case at the U.S. District Court for the Northern District of Illinois, United States, against President Bola Tinubu.
Following the withdrawal, the court consequently dismissed the suit. Special Assistant on Public Communications to Atiku, Phrank Shaibu, stated this yesterday in reaction to enquiries about the dismissed suit by the Circuit Court of Cook County.
Shaibu said, "Waziri Atiku Abubakar only withdrew the case before a Circuit Court of Cook County, Illinois County, United States of America, because he is pursuing the same matter in a higher court and he wanted to avoid an abuse of court processes. So, this is just the beginning."
He said it was funny that Tinubu and his supporters were rejoicing over the development as if it were a Supreme Court judgement. He added that Tinubu's academic records from primary school till university remained questionable, hence, the president's failure to identify a single former classmate.
Shaibu stated, "In the last one week, Nigerians have been watching the ongoing ministerial screening at the senate, where nominees have been made to reveal their primary, secondary and university history. Some of the ministerial nominees were even classmates with the senators screening them.
"However, the man who nominated them has no educational history. He has no primary school, secondary school or university classmates. This is because he has no classmates. He actually fell from the sky.
"In recent years past, presidents have invited their former classmates to Aso Rock Villa. Even President Muhammadu Buhari hosted his classmates from Katsina Middle School. But who did Bola Tinubu invite to the Presidential Villa? Governors from 1999 set. This is a man whose entire life, background and credentials remain unknown and Atiku will ensure that the man is exposed.
"It is expected that the person to hold the Office of the President must be above board, especially, on his life history. Unfortunately, here we have a president whose history is shrouded in secrecy and for whom it is a tough life that started in 1993."
Shaibu maintained, "Even the year 1993, which presents the opening chapter of the recorded history of our president, is renowned for a documented indictment on narcotics trading. Now, this is 2023, Atiku is asking to open the shady history of our president and the same man is standing in the way of the truth about his past.
"That very obstruction to the innocent effort to unravel the president's past means that the man has something to hide. It is shameful that the president's supporters are joyful that their man is covering up his own past.
"But, like the saying goes, falsehood may run for a lifetime, the truth shall overrun it in an instant. The moment of truth is here and President Tinubu has no hiding place."