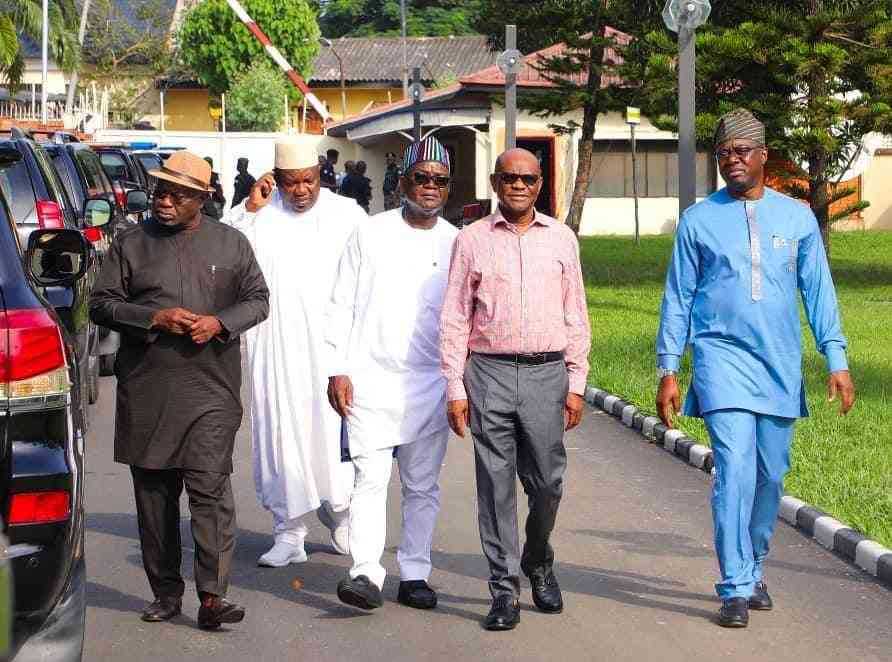 Atiku's Camp In Panic As G-5 Governors Regroup In Abuja, Meet Tinubu In Aso Rock
In a surprising turn of events, a group of five prominent Peoples Democratic Party (PDP) Governors, including four former and one serving governor, have regrouped in Abuja, and held crucial discussions with former Lagos State Governor and All Progressives Congress (APC) chieftain, President Bola Tinubu.
The meeting, which took place late on Tuesday, has raised eyebrows and speculation within the political arena. Advertisements The meeting was initiated with a prior gathering at the Abuja residence of Nyesom Wike, former Rivers State Governor and the current Minister of the Federal Capital Territory (FCT). Subsequently, Wike led his fellow former governors to meet with President Tinubu at the Presidential Villa. While details of the meeting remained elusive as of the time this report was filed at 10:45 pm, the focus of the discussion seemed to revolve around establishing a working relationship between the former governors and the president. A source close to the meeting, who spoke on the condition of anonymity due to a lack of authorization to comment on the issue, shed some light on the nature of the discussions.
The source revealed, "The G-5 PDP Governors first met in Wike's residence for a few hours before heading to the Villa to meet with the president. Exact details of what was discussed aren't available to me at the moment, but from discussions held during the initial meeting at Wike's residence, it was all about finding accommodation for the former governors in the scheme of things and, of course, how they can work together." Advertisements What has sparked particular interest is the timing of this meeting, occurring just 24 hours before the launch of the Imo State PDP governorship campaign in Owerri. Tensions have been mounting over the leadership of the party's Secretary position, making this sudden alliance even more intriguing.
The former Governors who participated in the meeting include Nyesom Wike, the immediate past Rivers State Governor and current FCT Minister; former Benue State Governor, Samuel Ortom; former Enugu State Governor, Ifianyi Ugwuanyi; his Abia State counterpart, Okezie Ikpeazu; and serving Oyo State Governor, Seyi Makinde. As the details of this extraordinary gathering unfold, political observers are left to wonder about the potential consequences and implications of this new alliance on the ever-evolving political landscape of Nigeria.