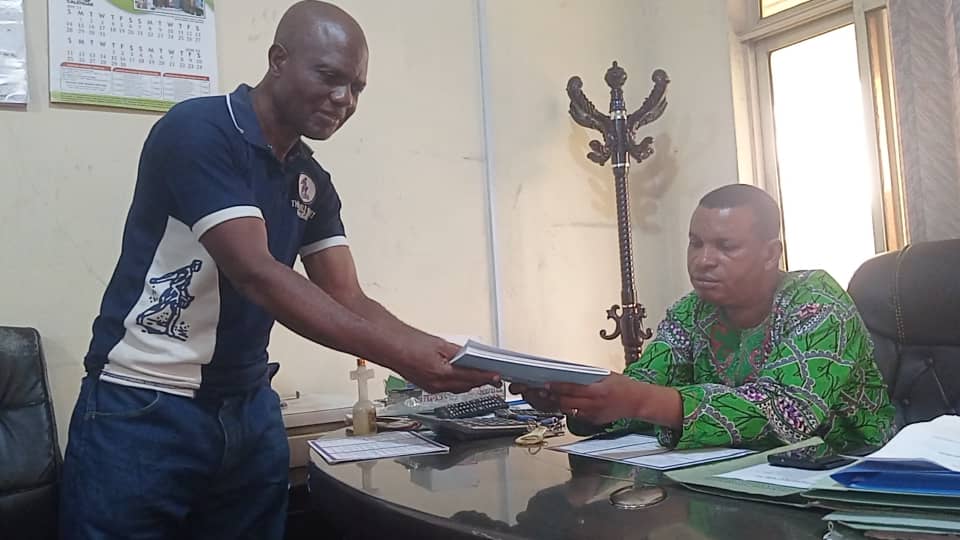 Bible Is Powerful Tool That Makes Christian Religion Most Outstanding and Living Movement".-Rivers Baptist President
There cannot be Christianity without the Written Word of God ,(The Bible).
This assertion was made yesterday by the President of the Rivers Baptist Conference, the Reverend Robert Okparanta Ph.D. when the Executive of the Bible Society of Nigeria Rivers/Bayelsa Area led by its Chairman, Elder Omoni Ayo-Tamuno, BSN-SM visited him in his office.
Reverend Okparanta declared "the Bible is the only and major weapon/tool that makes the Christian Religion the most outstanding and living movement".
The Rivers Baptist President asks, "if Church Heads, Pastors and Christina do not support the Bible Society of Nigeria who do we expect to do so?"
He continued, is is members of other religions, we expect to promote the activates and programmes of the BSN",
He added, "it is our responsibility as Church Heads, General Overseasers and Christians to do so".
[19:15, 7/6/2023] NUJ Chairman : Dr Okparanta assured the Society that he would advice the over 400 Churches in the Rivers Baptist Conference to support and promote it's activates and programmes.
On the alarm raised by the Society to merged or scrapped the Area with neighboring states if it failed to sell a minimum of 10,000 Bibles before the end of the year, Reverend Okparanta promised to make contacts to save this ugly situation.
Earlier in his speech the Chairman of the Area, Elder Omoni Ayo-Tamuno, BSN-SM had congratulated Dr Okparanta on his appointment as the President of the Rivers Baptist Conference.
Elder Ayo-Tamuno appealed to Dr Okparanta to impressed on his counterparts who are Heads of Churches, Bishops, General Overs easers to purchase their Bibles from the Area Book Store.
He also stressed the need for Schools owned by the mission to source the Revised Standard Version of the Bible from the Area which would help to meet our Bible distribution target.
Highlight of the visit was the presentation of the BSN literatures to the President.
Leader Fubara Hart
Publicity Secretary BSN Rivers/Bayelsa Area