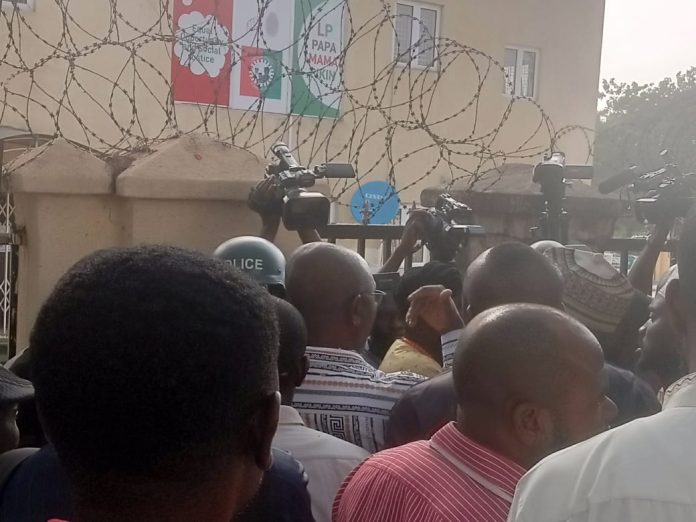 Breaking: Drama In Labour Party Abuja As 36 State Chairmen Forced Their Way Into National Secretariat
There was demonstration of solidarity today at the Labour Party's Headquarters Abuja as 28 out of the 36 visiting States Labour Party State Chairmen in attendance to support comrade Julius Abure, the National Chairman of Labour Party as well as other Obidients in attendance.
There was a wild drama as Chairmen of Labour Party (LP) today in Abuja forced their way into the party's National Secretariat ahead of a meeting with Julius Abure, the national chairman of the party.
The delegation who were in Abuja to show their support for the LP's executives who have been at the center of conflicting court orders on their tenure was earlier prevented entry into the premises by a detachment of policemen allegedly deployed by the FCT Police Command.
The Labour Party's 36 state chairmen also claimed that the ongoing crisis within the party's leadership is an attempt to prevent its presidential candidate, Peter Obi, from emerging victorious at the presidential election tribunal. The chairmen stated that the crisis is not about the party's embattled National Chairman, Julius Abure, but rather an attempt to create setbacks for Obi.
The crisis within the party took a new turn after a faction of the party led by the National Vice-Chairman of the party (South), Lamidi Apapa, claimed to have been inaugurated as the Acting National Chairman of the party. Speaking on behalf of all the 36 states chairmen in the country, Nasarawa State Chairman of the Labour Party, Alexander Ombugu, said in spite of the challenges that Abure was facing, they would continue to remain loyal and committed to his leadership.
Ombugu noted that other political parties are sponsoring the crisis in the Labour Party to spoil the chances of their candidate, Peter Obi, at the ongoing presidential election tribunal. He said the party's opponents are aware that Obi won the February 25 presidential election with a landslide, but the irregularities which occurred during the electioneering process, including the non-transmission of results to the Independent National Electoral Commission results viewing portal, led to another candidate being announced as the winner of the election.
Ombugu called on party supporters across the country to remain committed to the growth of the party and not be deterred by the activities of those who are sponsored to cause setbacks. He also urged the judiciary to remain upright in justice delivery, despite the challenges, and called on the security agencies not to allow themselves to be used by greedy and desperate politicians who do not mean well for the nation.
From Peter Obi Grassroots Mobilization.