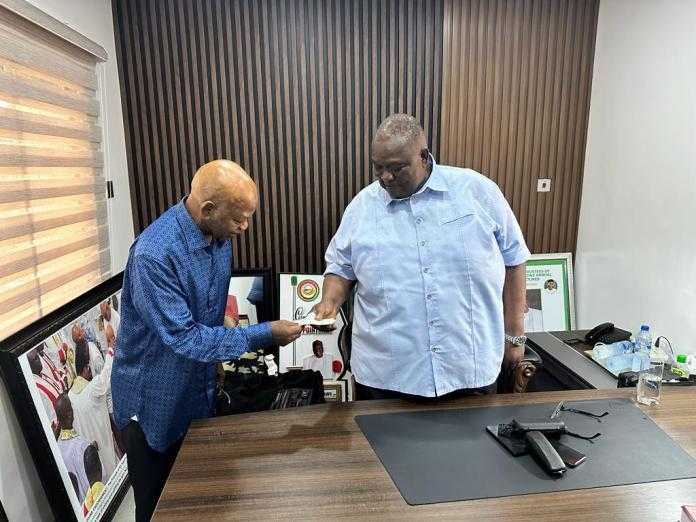 Business Mogul Arthur Eze Donates N100m To Iwuanyanwu To Run Activities Of Ohanaeze Ndigbo
Anambra business mogul, chief Prince Arthur Eze, has donated the whooping sum of N100 million to the apex Igbo socio-cultural organization, Ohanaeze Ndigbo.
The donation according to a statement by the spokesman of the socio-cultural group, Dr Alex Ogbonnia was in fulfilment of his earlier pledge he made on July.
The statement quoted the Chief Executive Officer (CEO) of Atlas Oranto Petroleum ltd, as saying that the incumbent President General of Ohanaeze, Chief Emmanuel Iwuanyanwu, should not be stressed or made to fund Ohanaeze from his personal pocket.
"Prince Eze while speaking to an assemblage of Ndigbo at the Imo State Government Lodge, Asokoro Abuja on July 10, 2023 lamented that Ohanaeze Ndigbo led by one of the most brightest and pre-eminent amongst the Igbo, a highly revered icon in Nigeria; and an accomplished Titan in business, Chief Engr. Dr. Emmanuel Iwuanyanwu, CFR (Ahaejiagamba) should be not stressed by funding Ohanaeze activities from his pockets.
"Eze stated that Chief Iwuanyanwu has paid his dues to the Igbo in diverse ways beginning from the war times", the statement said.
"Eze supported the visionary dynamic of Chief Iwuanyanwu on how he will lift Ohanaeze from its present habitat and provenance to a glorious and enviable pedestal where it can command the followership and loyalty of all Igbo, both at home and in the Diaspora."
The statement further described Eze's trajectory as "an inspiring testament to the biblical injunctions of charity; and an admonition to the uninitiated scarcity thinkers that limit their horizon to self-satisfaction."
Chief Iwuanyanwu, according to the statement, described the Anambra -born billionaire as "a trail blazer; a worthy Igbo son who is always actuated by a deep sense of empathy, affection and an over-flowing kindness".