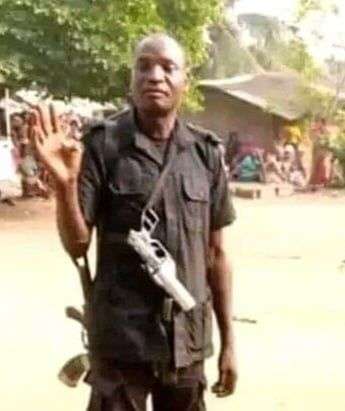 CIMPARR-Nigeria Condemns Beheading Of SP Bako Angbashim By Known Cultist In Ahoada East
The Civil-Military Police and Paramilitary Relations Nigeria (CIMPARR-NIGERIA) is deeply saddened and appalled by the barbaric act of violence that transpired on 8th of September, 2023 in Ahoada East LGA, resulting in the beheading of Superintendent of Police DPO S.P Bako Angbashim during a gun battle with cult gangs. The River State Police Command has confirmed this devastating incident.
CIMPARR-NIGERIA strongly condemns this brutal attack on Superintendent Angbashim, a dedicated and courageous member of the police force who made the ultimate sacrifice in the line of duty. Our hearts go out to his grieving family, friends, and colleagues, whose lives have been forever changed by this tragic loss. We stand with them in their time of profound sorrow and offer our deepest condolences.
This gruesome incident highlights the urgent need to address the escalating security challenges posed by cult gangs in our community. CIMPARR-NIGERIA calls upon the government, security agencies, and community leaders to work together in a collaborative effort to root out these criminal elements, bring them to justice, and restore peace and security to our neighborhoods.
CIMPARR-NIGERIA reaffirms its commitment to promoting harmonious civil-military police and paramilitary relations in Nigeria. It is through fostering trust, cooperation, and effective communication between these entities that we can collectively combat crime and protect our communities. We commend the River State Police Command for their dedication and bravery in the face of such dangerous circumstances.
We urge the relevant authorities to conduct a thorough investigation into this gruesome act and ensure that all those responsible, including their accomplices, are swiftly brought to justice. The safety and security of our citizens demand immediate action to prevent further loss of life and restore public trust.
CIMPARR-NIGERIA reiterates its profound condolences to the bereaved family of Superintendent Angbashim. We hope they find strength and solace during this challenging time. We call upon the entire community to unite against criminal activities, support law enforcement agencies, and provide any useful information that may lead to the apprehension of the perpetrators.
Thanks
Yours In Service
Comrade Green I. Isaac (Afp, AIPM IRAMP)
National Cordinator
CIMPARR-NIGERIA