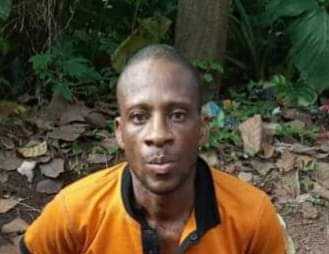 Court Remands 37 Yr-Old HIV Positive Man In Prison Custody For Defiling 4 Yr-Old Minor
There was dramatic turn around in court on Wednesday when a 37-year-old labourer, Mr. Chiemela Victor Ekeke accused of r@ping a 4-year-old girl in Umuahia, Abia State dropped his earlier claim of accidental encounter with the minors private part, to pleaded guilty,
According to ABN TV, the pedophile who had earlier tested positive for HIV was arraigned on Wednesday July 12, 2023 before a magistrate court in Umuahia, Abia State capital where he pleaded guilty to three-count charges bordering on r@pe.
Upon interrogation, the accused person said his doctor told him he has a small load of HIV that has been flushed out of his system.
The prosecuting counsel, Mr. Okezuonu Obioma an official of the Ministry of Justice told ABN TV that the accused person did not deny any of the 3-count charges.
He said he laid before the magistrate court the facts in order to convince the court that the accused persons committed the crime.
The court found him guilty and adjourned till July 21 for sentencing.
Recall that the accused person, a labourer and a farmer narrated how he had gone to the victim's home in search of a woman that is related to the victim's family to pay her the sum of N3,000 he had earlier borrowed from her.
The accused person said upon arrival at the home of the victim located at Ogbulafor Street in Umuahia, he met the children playing in the parlour.
According to him, while two of the children left the parlour, and he was left with the youngest one, the 4-year-old old girl, he put her on his laps, playing with her.
He confessed that he laid her on the bed where his hand mistakenly touched her on the private part.
He denied having carnal knowledge of the victim despite blood stains around her legs. "Maybe it's through the touching", he had stated defending why the blood gushed out from the baby's private organ.
The little girl is still currently receiving treatment in an undisclosed hospital.