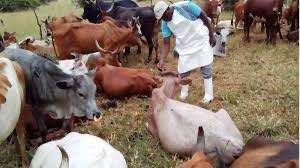 Cow Meat Consumption Alert: Lagos State Records 6 New Cases Of Anthrax
The Lagos State government, have confirmed to six animals in the state have anthrax disease.
Anthrax is an infection caused by the spore-forming bacteria, Bacillus anthracis. It typically affects ruminants such as cows, sheep, and goats.
It is a zoonotic disease — transmissible from contaminated animals to humans
Humans can get infected if they handle or are involved in the slaughter of a sick animal, or are in contact with contaminated animal products.
Making the announcement in a statement on Sunday, Olatokunbo Emokpae, the permanent secretary of, Ministry of Agriculture, said the cases were discovered during surveillance of animals on Lagos Island and Agege.
According to NAN, Emokpae said the animals have been confiscated, burnt, and buried, to prevent the spread of the disease.
She said no case of human infection has either been identified or reported since the discovery of anthrax disease in Lagos.
She added that human and animal surveillance have been stepped up and free vaccination has been intensified.
"Animal owners should take advantage of the exercise by coming forward with their herd for inoculation," the statement reads.
'"Please report cases of symptoms in animals to the Lagos State Ministry of Agriculture, Director of Veterinary Services via telephone on 08023427594, 08180703010 or contact the Veterinary Epidemiologist on 08023328244."