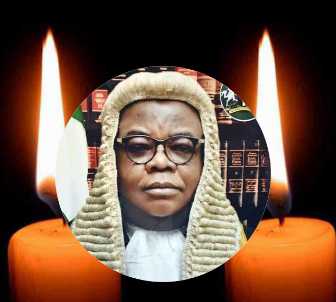 Southeast Mourns As 64 Year-Old, Supreme Court Justice, Chima Nweze Joins His Ancestors
Supreme Court Justice, Hon. Chime Nweze reportedly died yesterday after a brief illness at the age of 64.Consequent to this unfortunate exit, the South East is presently without a single Justice at the Supreme Court of Nigeria.
As is customary, Nigerians will be observing the initial 3-day mourning period from Monday 31st July through to Wednesday 2nd August.
May My Lord's soul Rest in Peace
Recall that Justice Nwaeze had, in a dissenting judgement in 2020, declared Emeka Ihedioha of the People Democratic Party, PDP, winner of the 2019 Governorship election in Imo State.
Also, in a split judgement of three-against-two, Nweze delivered the controversial judgement of the Supreme Court which declared then Senate President, Ahmad Lawan as the authentic candidate of the All Progressives Congress, APC, for Yobe North Senatorial District for the 25 February general election.
Justice Nweze, a native of Obollo, Udenu Local Government Area of Enugu State, was born on September 25, 1958.
In 2014, Former President Goodluck Jonathan's administration approved the recommendation of the National Judicial Council (NJC) to appoint Nweze to the supreme court.