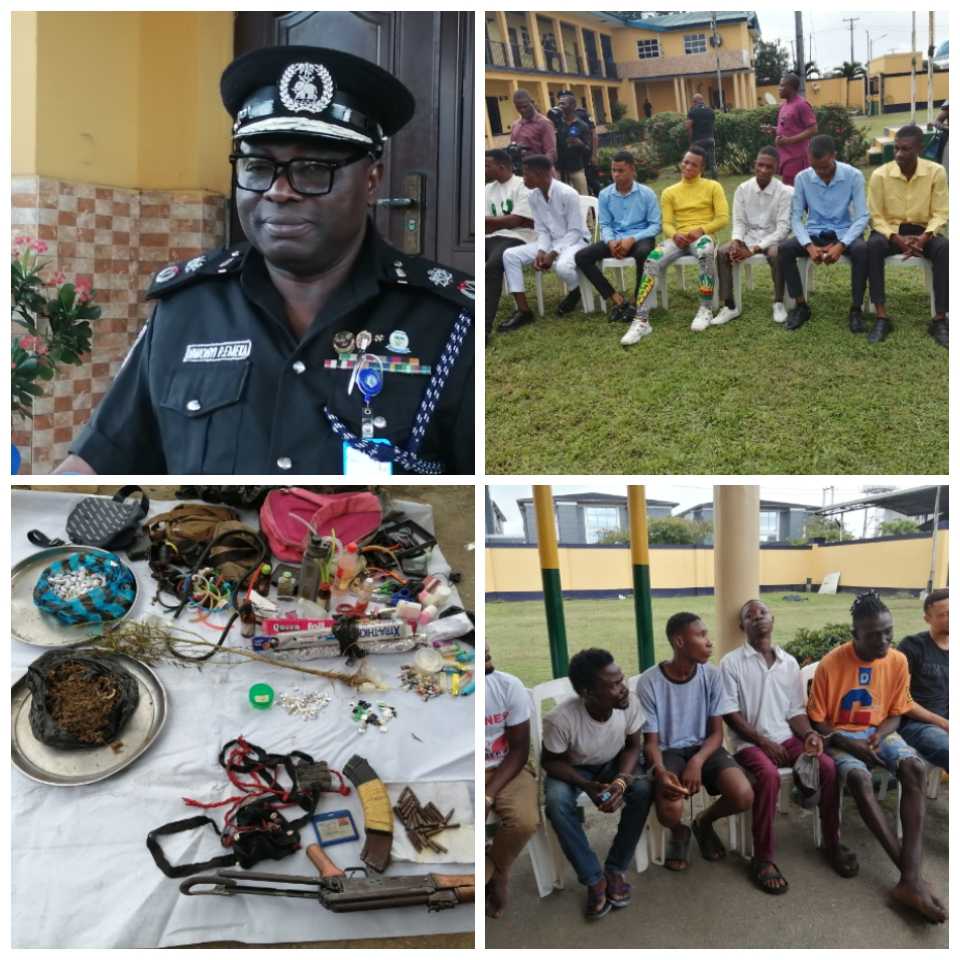 CP Nwonyi Harvest 23 More Criminal Suspects, Rescue Over 60 Victims Hypnotized By Fake Visa/Job Opportunity Syndicates
The Rivers State Police Command say it has arrested one Nyeche Ajuru, leader of disbanded OSPAC who allegedly  seized two riffles from men of the Nigerian Soldiers two months ago at Ndele community, Emohua LGA of Rivers State.
The State commissioner Of Police CP Emeka Nwonyi stated this while Briefing Journalists at Police headquarters, Moscow road Porthacourt said Nyeche Ajuru was arrested along Aluu -UDS road in a Toyota Corolla car by operatives of Anti-cultism unit, last week Thursday.
CP Nwonyi noted  that an AK 47 Riffle, two walkie talkies, Police Special Constabulary ID was recovered from Ajuru and the occupants of the vehicle. The Rivers Police Boss said the suspect Ajuru confessed to have engaged and killed two soldiers in a shoot out in Ndele.
CP Nwonyi gave summary of the operations as follows:
The Rivers State Police operatives were notified on Tuesday, 20/06/2023 at about 2145hrs following actionable intelligence and a complaint of fraudulently obtaining the sum of One Million, Six Hundred, and Fifty Thousand Naira reported by One Chima Ukaghu and Okodo Jonathan, both residents of Port Harcourt, and Bature Solomon, a resident of Ikorodu Lagos, by a syndicate of fraudsters operating at Rumuahorlu, Port Harcourt.
A team of operatives raided two locations housing notorious syndicates and also providing a safe haven for them to carry out their nefarious criminal activities.
The following members of the syndicate were arrested: Wisdom Kasi 'M,' aged 25yrs; Nwankpa Ejike 'M,' aged 30yrs; Eze Christian 'M,' aged 21 Yrs; Nome Ikechukwu 'M,' aged 27yrs; Nkoma Maduabuchi 'M,' aged 26yrs; Oghenerume Godstime 'M,' aged 25yrs; Apharake Sefa 'M,' aged 26yrs; Ogodo Benedict 'M,' aged 19yrs; Innocent Ogboso 'M,' aged 28yrs; Emmanuel Chinonso 'M,' aged 27 Yrs; Lucky Napoleon 'M,' aged 26yrs; Emmanuel Nwafor 'M,' aged 26yrs and Jackson Ndifreke 'M,' aged 32yrs.
A total of sixty victims, including eight females and fifty males, were rescued.
A preliminary investigation revealed that the notorious syndicate defrauded unsuspecting victims and others yet to be identified across different locations in the country of huge sum of money amounting to millions of Naira under the guise of recruiting and training them for non-existent overseas job opportunities.
An investigation is in progress, and efforts are intensifying to arrest other fleeing members of the syndicate at large.
2. Operatives of the Anti-Cultism Unit of the Command, on Thursday, 22nd June 2023 at about 1600hrs, while on stop and search along Aluu UDSS Road, stopped a Toyota Corolla car with registration number SPR 32 HA, ash in colour.
During a search on the vehicle and its occupants, one AK47 rife with 23 rounds of live ammunition with Breech No. 5652, two (2) walkie-talkies, a police face cap, constabulary police ID card, python dance base face cap, two phones, and other assorted charms were recovered.
The two occupants are both from Ndele community in Emoaha LGA.
One of the suspects confessed to having engaged the Army in Ndele, where two soldiers were killed. The suspect have expressed readiness to disclose all necessary information which will assist the Police in its investigations.
3. Similarly, on Wednesday, June 21, 2023, at about 1030hrs, one Thankgod Woruka was arrested in connection with the abduction of Hon. Justice Azunda, Chief Protocol to former Chief of Staff, Hon. Emeka Woke, who was abducted on June 4, 2023.
The said suspect, during interrogation, confessed that he knew where the abducted victim was buried. He led patrol teams to the forest, where he showed the victim's grave site and also the camp of the dreaded kidnapper "Wordi," where one Motorcycle, AK 47, an empty magazine, and three ATM cards were found; two of the ATM cards bore the name of the abducted victim.
The body of the late Hon. Justice Azunda has been exhumed by the Health Department of the LGA and deposited at Delight Mortuary, for autopsy.
4. On Friday, 23/6/2023 at about 0905hrs, Operatives received a tip that one Abraka David 'M' of Borokiri Port Harcourt was kidnapped by unknown gunmen close to Okogbe Community Ahoada West.
Operatives mobilized to Okogbe Community in search of the victim, and on stumping on the camp of the cultists to rescue the victim and possibly arrest the suspects, one Ford Hilux with Reg. No. GGU 2035M was recovered from the camp and taken to the station.
However, on Sunday, 25/6/2023 at about 0840hrs the victim was rescued and sent for medical treatment.
5. On Saturday, 24/06/2023 at about 1030hrs, some groups of criminals went to Gbaken Community under Koroma Division in Tai LGA and vandalized a fallen high-tension pole.
However, a police patrol team with the help of the military went to the scene, but on arrival, the hoodlums escaped into the bush.
Meanwhile, the truck loaded with vandalized items was recovered and taken to the station.
Effort is ongoing to arrest the suspects.
6. On Monday 26/06/2023 at about 1400hrs, the Police arrested one Prince Dumku 'M and Roland Sunday 'M,' both of the same address: Life Camp Petrol Chemical Akpajo.
Exhibit recovered from them is One Toyota Sienna with Reg. No. LRS 613 CA, property of One Ndubuisi Amadi 'M' Of Igwuruta Rivers State.
The suspects and exhibit are in Police custody as investigation is in progress .
7. Operatives of the Command and OSPAC Security Outfit, in Obio/Akpor LGA , on Thursday, 22/06/2023 at about 0400hrs raided black spots within the axis.
Eight (8) suspects were arrested in the course of the raid. Some of the suspects are Chiwado Igwe, "M," 37yrs; Chinemewre Udo "M," 42yrs; Zanty Joshua "M," 39yrs; David Denis "M," 17yrs; Nelson Chinda "M," 29yrs; Gift Krika "F," 26yrs; Christian John "M," 29yrs and Dokubo Daniel "M," 26yrs.
During the search, the following items were recovered: Weeds suspected to be Indian Hemp, Ice, and Bonka; loud, hard drugs .
8. On Sunday, 25/6/23 at about 16:45hrs while on routine Patrol along Oroigwe Road, received distress call , on a one-man Squad, robbing people along Oroigwe Road.
On receiving the information, the Operatives of the Elimgbu Division swung into action and intercepted and arrested One Kingsley Matthew ' M,' 32 years old, who is from Imo State but resides in Oyigbo.
The exhibit recovered from him, a Brownies Pistol and Two Phones.
Preliminary investigation reveals that Kingsley Matthew belongs to a serial Syndicate that specializes in snatching people's phones.
The suspects and exhibit are in police custody as investigations ongoing.
9. The Rivers Police Operatives, in collaboration with stakeholders ,Rivers and Abia States commands, on 08/06/2023 led to the rescue of Joshua Kpee and Treasure Kpee, who were unhurt at Aba and brought to their parents.
Information from them revealed they were abducted and sold by Joshua's former teacher, whose name is unknown, who is said to be working presently in a yet-to-be-identified school at Bori, Khana LGA of Rivers State.
No. of Suspect …………………………..………………………………..…………23
No. of Arms Recovered ……………………………………………….……………2
No. of empty Magazine ………….………………………………….…………… 1
No. of ATM Card ….………………………………………….……….………………2
No. of Recovered Vehicles…….…….…..……………………………………..3
No. of Recovered walkie-talkie.………………………………….…………..2
No. of Recovered Motorcycle.……………………………….…….…………..1
Security is a collective responsibility of everybody. Curbing crime in our society is a joint effort. I am calling on residents of the State to be open to security Operatives efforts in fighting crime and criminality.
Thanks for your support as always.