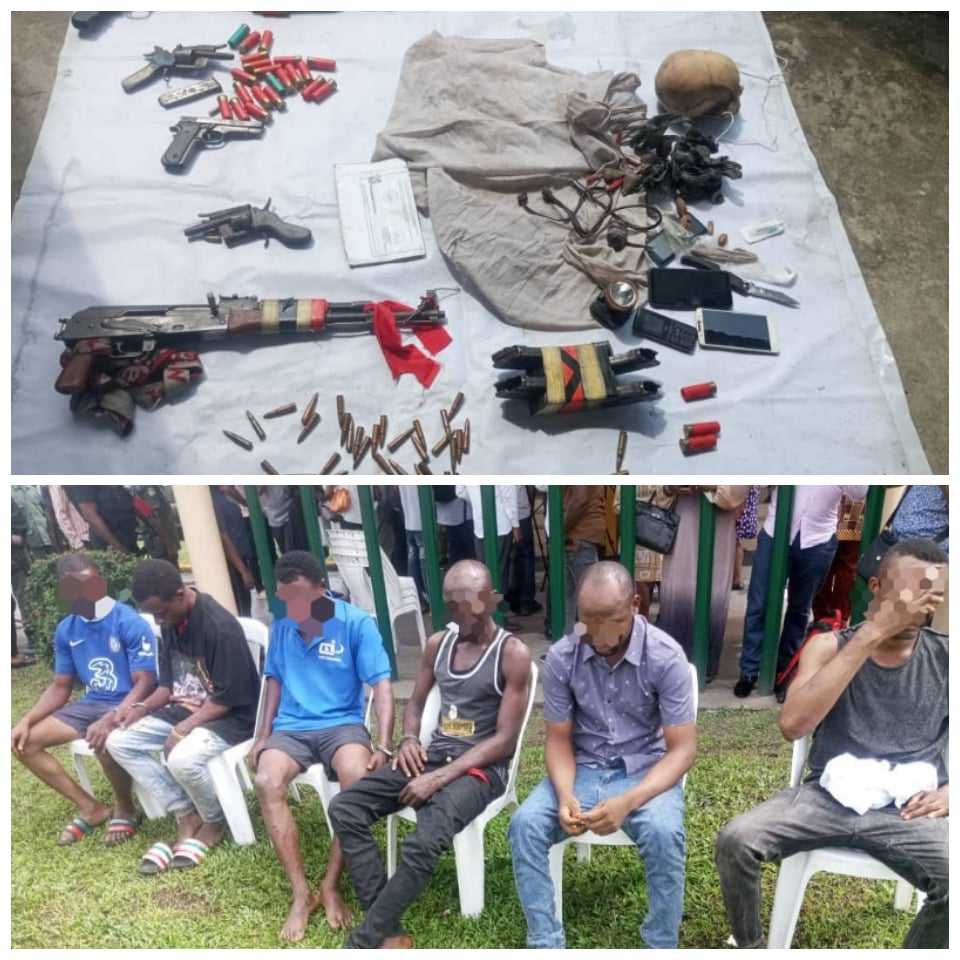 Criminal Gangs In Rivers State Begging For Amnesty, As Police Continues Offensive On Flash Points
The Rivers state Police Command says it has arrested several suspects for various offences and recovered arms and ammunitions including human skull from suspected cultists terrorizing the state
The Commissioner of Police in Rivers state CP Emeka Nwonyi While briefing newsmen at the command headquarters said achievements recorded by the police are as follows:
1. Operatives of the C4i Intelligence Unit, while acting on intelligent-led policing and a follow-up in a case of Kidnapping/Murder, arrested one suspect that ran away to Magboro Community in Owode Ibafo of Ogun State in connection with the kidnap and murder of late Justice Azunda 'M,' the Protocol Officer to the Chief of Staff to the former Governor of Rivers State from Isiodu Community in Emohua Local Government Area of the State. During interrogation, the suspect confessed to have collected a ransom of Two Million Naira (N2, 000, 000 .00) through a bank transaction from the family of the victim, before he was murdered. On 4th June 2023, Operatives raided the camp of the kidnappers. During the raid on the camp located in Isiodu/Elibrada Forest. On 20th July, 2023, members of the gang engaged the police operatives in a gun battle during which one suspect was fatally wounded while others escaped with gunshot injuries. The fatally wounded suspect was identified as one Chinedu Azunda M, popularly known as Omo, aged 36 years, a native of Isiodu Community in Emohua Local Government Area.
One pump action gun with a bag containing twenty-two rounds of live cartridges was recovered from the scene.
Investigation is still in progress, as every effort to recover other operational weapons and arrest of the fleeing suspects is ongoing.
In a related development, Operatives of the C4i Intelligence Unit, on 08/7/2023 at about 1600hrs, received a distress call, that some group of armed robbers were operating on gun point in Ikwerre Road, in Port Harcourt City Local Government Area, and snatched a black color Lexus SUV. Operatives immediately swung into action and arrested the suspects. During interrogation, the suspects confessed to the crime of serial Car snatching syndicate in the state. They led Police Operatives to their criminal hideout in Igwuruta forest. On sighting the Police, the hoodlums opened fire and engaged the Police in a gun duel, due to the superior fire power of the Police, others escaped with bullet wounds while two suspects who made an attempt to escape, were demobilized and rearrested with bullet wounds and were rushed to University of Port Harcourt Teaching Hospital for treatment, and the Doctor on duty confirmed them dead, Corpses were deposited at the morgue for autopsy.
Exhibit recovered: One rebranded Beretta Pistol without breach number and one locally fabricated Revolver pistol.
Efforts on top gear to arrest other fleeing members of the gang.
2. On 15/7/2023, Operatives of Akpajo Division received a distress call that a red colour Toyota Corolla Car with Reg. No. KSF 225 FQ with bullet holes was taken to a mechanic workshop by hoodlum along Farm Road, Akpajo. Operatives led by the DPO, immediately visited the scene, recovered the vehicle, and arrested two suspects, Done Deedum, age 37yrs and Suka Friday, 40yrs (aka Life), notorious criminals who have been on the command watch list. Investigation is ongoing.
3. On 22/07/2023 at about 0200hrs, Operatives of C4i Strike Force (Octopus) on the follow-up in a case of armed robbery at Rumuahorlu by a Three-man gang syndicate. Three of the suspects who were arrested, took Operatives to their hideout at Rumuola/Elekahia. The following items were recovered:
One locally made Revolver pistol
Three rounds of 9mm live ammunition
Toyota Camry Salon car with registration No. AHD 758 DD
One 43" Hisence Flat Screen TV
One iphone 7
One Techno SPAC Phone
One HP Laptop
Efforts intensified to arrest other members of the gang.
4. Operatives of Hunter Strike Unit, on 26/07/2023 at about 0600hrs while working on a tip-off arrested One Sunday Sunday "M," of Ndoki Estate, Borokiri, Port Harcourt City.
The suspect confessed to have stolen one Yamaha 40 Horsepower Boat Engine valued at one Million and Nine Hundred Thousand Naira (N1,900,000.00), the property of one Onyebuchi Ide "M."
Investigation ongoing to recover other stolen items.
5. On 26/7/2023, Operatives of Kpor Division while on visibility patrol along Bogusa Street, Mogho Community Kpor in Khana Local Government Area of the state, sighted two suspected young men, on sighting the Police, they took to their heels and escaped into the bush and abandoned a black cellophane bag. When searched upon, one locally made chief revolver pistol without ammunition was recovered. Intensive effort is ongoing to arrest the fleeing hoodlums.
6. On 27/7/2023, at about 0400hrs upon credible information received by Operatives of the Command stormed one Dangerboy and Double Chief Camp at Ebrass Community Forest both notorious cultist in Ahoada West Local Government Area of the State. The hoodlums in their numbers, on sighting the Police Operatives, engaged them in a gun dual and one of them was fatally wounded by the superior fire power of our Operatives, while others escaped with bullet injuries.
Exhibits Recovered: One AK47 Rifle with breech number 549168 and Five Magazines loaded with Fifty One (51) rounds live Ammunitions, Three Live Cartridges, One Live GPMG Ammunition and some assorted charms.
7. ARREST OF ARMED ROBBERY SUSPECTS: On 27/07/2023 at about 0400hrs, Operatives of Ozuoba Divisional Headquarters received a distress call from an Hotel owner at Interior Gate Ozuoba that armed robbers are operating inside his Hotel, immediately a team of Police officers led by the DPO swung into action and arrested two suspects namely: Anayo Festus Onwe 'M' 31yrs and Emmanuel Lawson 'M' 21yrs.
Exhibits Recovered: Mazda 323F with Reg. No. SSE 336 AA, One big cutter and two ATM Cards.
Gentlemen of the Press, the Rivers state Police Command Under my Leadership will do everything humanly possible to rid the state of criminal element.
The Command is not unaware of plans by some criminal gangs of their willingness to repent whereas a welcome development if that will help the State move on better, yet those who have refused to turn a new leaf, we will match you bumper to bumper and fire to fire.
In light of this, I sincerely appeal to good residents of the State, urging them to be actively support our committed police Operatives as they work tirelessly to combat all types of criminal activities within the State.
Thank you for your usual support.