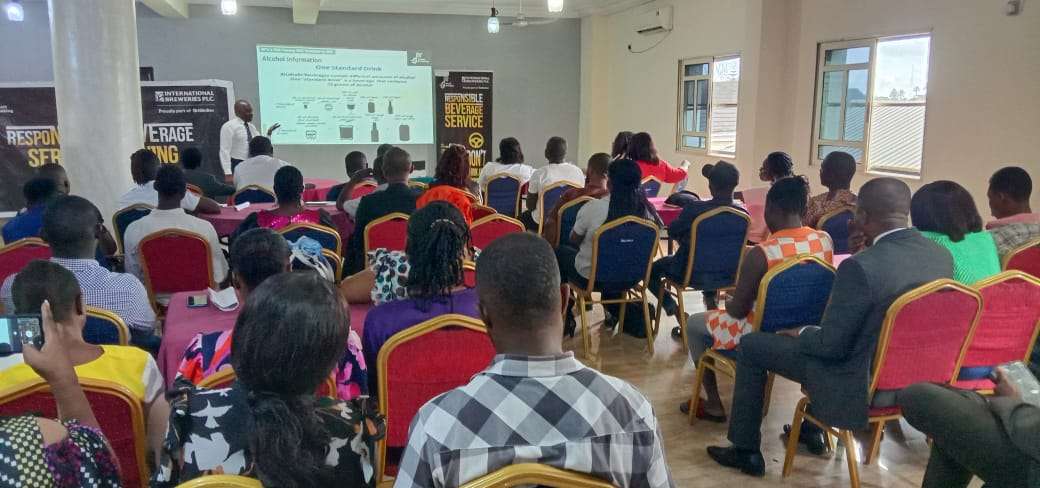 Watch Out For Binge Drinkers, Sale Of Alcohol To Minors, Pregnant Women- NNF Tells Hotels/ Bars Owners
International Breweries Plc Leads Responsible Beverage Service Training to Curb Harmful Alcohol Use in Nigeria
Port Harcourt, Rivers State – [27th July 2023] – Today, the Responsible Beverage Service (RBS) training was held at the Pakiri Hotel, Port Harcourt, Rivers State. The training, spearheaded by International Breweries Plc, aimed at promoting responsible alcohol service among hotel, restaurant, and bar owners in order to reduce the harmful effects of alcohol in Nigeria.
Fifty-eight participants gathered at the venue to gain valuable knowledge and skills on implementing responsible beverage service practices in their establishments. This timely initiative aimed to address crucial aspects, including basic RBS concepts, an overview of the RBS program, the positive and negative effects of alcohol, as well as essential skills to protect customers from alcohol-related harms. Additionally, participants were educated about local laws and house policies for the safe sale and service of alcohol.
The training was conducted by IBPlc's implementing partner for the RBS program, New Nigeria Foundation (NNF). The sessions were facilitated by NNF staff, Bunmi Olatunde and Fred Nwogu, who guided the participants throughout the sessions.
Anietie Micheal, the Managing Director of Quality Bar and Restaurant, expressed his appreciation for the initiative, stating, "I am learning for the first time that sales establishments should avoid selling alcohol to minors and pregnant women because of the harmful effects it has on them."
The RBS training proved to be impactful, as participants shared their insights and feedback. Gbarayorks Nobleman, Manager at New Las Vegas Bar, praised the training for providing comprehensive ideas to prevent the harmful effects of alcohol, such as pacing drinks to intoxicated patrons, suggesting alternatives to intoxicated customers, and refusing service to those who intend to drive.
Dandyson Lolokama, Manager at Precious Foods, Bar, and Restaurant, announced his immediate action after the training, saying, "One of the first steps I will take is to develop a responsible beverage service policy for my establishment." Joyce Chinaza, Manager at De-Yellow Bar, expressed how the training had changed her perception of intoxicated patrons, providing valuable insights on how to support and ensure their safe journey home. She also pledged to introduce incident and refusal log books in her establishment.
The participants called for more of such training sessions for their colleagues, appreciating International Breweries Plc for sponsoring the commendable initiative.
The Responsible Beverage Service Program was launched in Port Harcourt on Wednesday, 26th July 2023 by International Breweries Plc. At the launch, Temiope Oguntokun, Corporate Affairs and Legal Director at International Breweries Plc, urged the public to serve alcohol responsibly by avoiding excessive consumption, binge drinking, and the sale of alcohol to minors and pregnant women.
International Breweries Plc remains committed to its mission of fostering a culture of smart drinking in Nigeria. Such initiatives are pivotal to ensuring the well-being and safety of consumers of their products and the broader community.
For more information on the Responsible Beverage Service program and future training sessions, please visit the International Breweries Plc website, or New Nigeria Foundation's Stanley Nyeche @ Stanley Nyeche <stanbizng@gmail.com>.