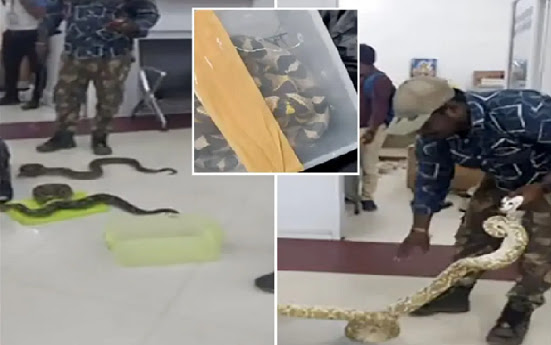 Custom Discover 22 Snakes In Airline Passenger's Baggage
Chennai Customs said they intercepted a female passenger with dozens of snakes in her check-in baggage.
The woman was arriving from Kuala Lumpur, Malaysia, attempting to smuggle 22 snakes of various species and sizes, officials said. A chameleon was also seized.
In a video released by Chennai Customs, the reptiles could be seen packed in various transparent plastic containers.
The Parliament of India enacted the Wildlife Protection Act in 1972 to protect plants and animal species, just like the ones attempted to be smuggled.
In January of this year, at the same airport, 45 ball pythons, three marmosets, three-star tortoises and eight corn snakes were also confiscated from a passenger's luggage.