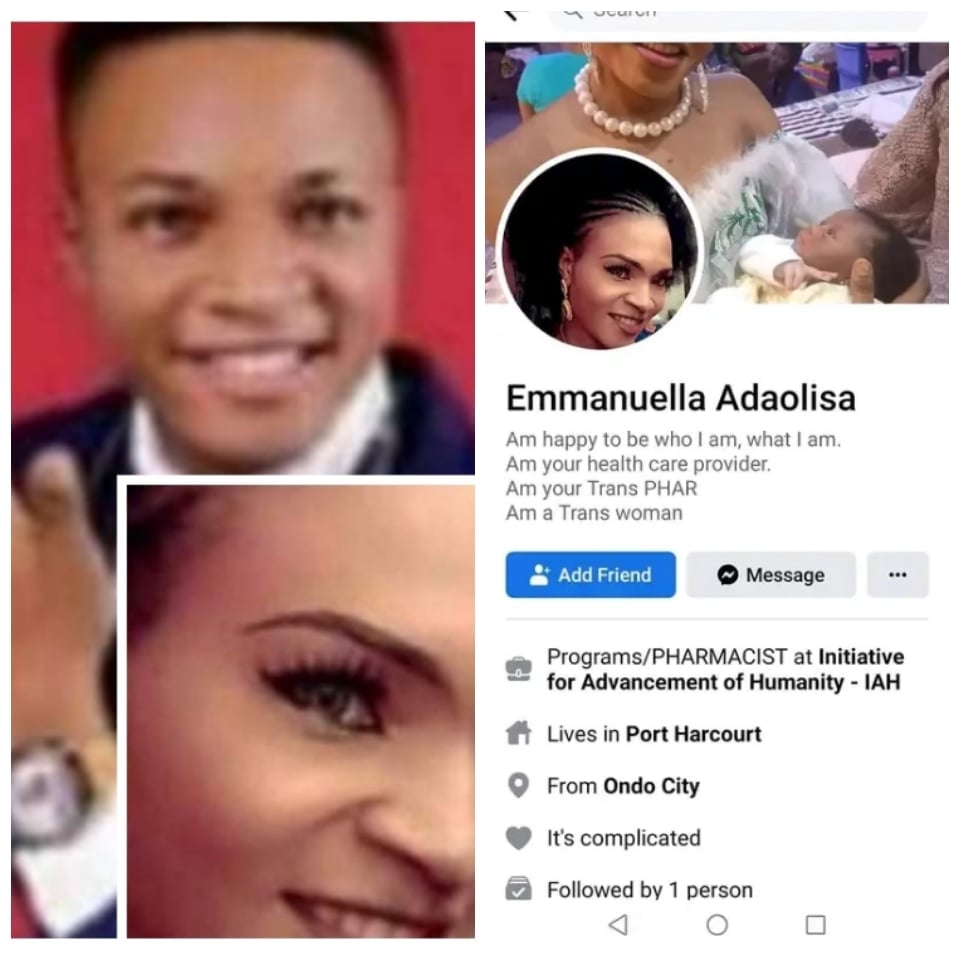 Death Of Female Transgender Chorister: Keke Driver Denies Culpability, Enters Police Protective Custody
A Keke driver alleged to have hit and killed a female transgender chorister attached to Catholic Church Iwofe has denied responsibility for the death of the female transgender.
In an interview with Journalists, the Keke driver who is currently in protective custody of the Police, spoke through his lawyer Nyeche Amah lawyer said he did not hit and killed the Keke transgender as being speculated.
Mr Amah said "I feel very disappointed with the information making the rounds that my client (Mr Peter Okon) hit the transgender person .The name of the transgender is actually Emmanuel Oliseh Ogaebulam from Anambra State.
"What actually happened is that the transgender was a passenger to the Keke driver, he was in the same tricycle with the driver. While the Keke driver was driving, there was a little girl with wheelbarrow trying to cross the road.
"In an attempt for my client to dodge the little girl carrying the wheel barrow and crossing the road, he has to swerve and on attempt to swerved, unconsciously the transgender person fell out off the vehicle and fell into the drainage .
"It would also interest you to know that the female transgender is not the only one the driver was carrying .unfortunately the transgender was the only person who sustained injuries that later died. My client is hale and hearty is in Police protective custody.
"Mr Okon did all he could to protect everybody on the tricycle but unfortunately the transgender made an attempt to jump out and fell into the drainage.
"The the Keke driver displayed highest level of maturity by reporting himself to the Rumulomeni Police Station at Iwofe when the incident occurred around Akar junction, Iwofe on night of January 31st,2023.
"The Keke driver is not actually detained but kept in protective custody so that the driver does not get hurt by persons sympathetic to the transgender who may not have known what transpired".
Recall that the transgender who goes by the name Emmanuelle Adaobi whose real name was later revealed as Emmanuel Oliseh was a female transgender Chorister of a Catholic Church at St. John Iwofe who is in a process of getting married to a man in the church before his death.
Also a man captured in a viral picture with the transgender who was in traditional attire speculated to be the man who wedded the transgender has denied wedding the Transgender.
The man who is a Port Harcourt based lawyer told our reporter that he went for Traditional marriage somewhere when the female who turned out to be a transgender begged to snap with him and it was almost normal that he accepts snapping with the female who later turned out to be a transgender.